It's not uncommon for consumer and business behaviors to influence major changes in an industry. Consider the constant demand for more storage. Billions of connected devices are expected to generate 155 yottabytes of data by 2021. Only 0.0013 percent (about two zettabytes) of that is expected to be captured, and only 4.2 percent is going to be transmitted to the cloud1 the rest is going to be stored in various types of local storage. Amazing numbers!
This type of evolution within an industry happens constantly, and a few current market trends are driving new changes in the realm of removable storage:
The endlessly growing needs for storage and higher-capacity cards drive higher-performance capabilities that allow reasonable upload/download time for content.
Client computing is moving quickly from SATA to PCIe Gen3, followed by Gen4, and various memory-related emerging markets – such as autonomous vehicles and connected cars that use multi-sensor data collection as well as 360o and VR/AR cameras; high-resolution gaming; and multi-channel IoT devices – all require high-speed memory interfaces and multi-channel operations.
Mobile computing infrastructure is evolving, spurring growing performance levels of input/output (IO) communication interfaces as well as internal embedded storage.
Google Android devices now can use SD memory cards as embedded memory or extended system storage for video/audio content, as well as for storing and running apps, but running Android applications from a card requires higher random performance and sequential performance capabilities.
These new technology trends signal a demand for memory cards with higher speeds, improved protocols and interfaces, high performance sequential and random access – and to meet this demand, the new SD 7.0 specification introduces SD Express.
What is the SD Express?
The SD Express incorporates the PCIe® and NVMe™ interfaces into SD memory cards alongside legacy SD interface. In anticipation of the next generation of high-performance mobile computing requirements, adding PCIe technology and the advanced NVMe protocol delivers faster access to data files than today's SD platform, achieving speeds of up to 985 MB/s. An upper-layer protocol allows advanced memory access mechanism, enabling a new world of opportunities for the popular SD memory card. This new protocol allows SD Express memory cards to serve as removable Solid State Drives (SSD). A short video released by SDA describes shortly the features of SD Express.
These speeds are essential for high-resolution content applications such as super-slow-motion video, RAW continuous-burst-mode photography, 8K video capture and playback, 360-degree video, speed-hungry applications running on cards and mobile computing devices, ever-evolving gaming systems, multi-channel IoT devices and numerous automotive storage needs, to name a few.
In addition to the many performance advancements, SD Express maintains the long-standing advantage of SD's backward compatibility and interoperability. The PCIe interface was added alongside the existing SD (UHS-I) interface, allowing a card with SD Express to operate interchangeably in new SD Express capable hosts as well as in billions of existing SD host products in the market today.
The full-size SD Express card uses the same pins and connectors as defined for existing SD UHS-II. As a result, SD Express will not support UHS-II interface. It features a new PCIe and NVMe interface. The differential interface of single-lane PCIe Generation 3 uses the same pads as the SD UHS-II differential interface pads found in the second row of pins. Next, PCIe REFCLK, along with the side band signals CLKREQ# and PERRST#, are shared with the existing SD UHS-I, leveraging the first row of pins. The first row is also the SD UHS-I interface, delivering full backward compatibility and interoperability with billions of existing
SD host devices. Work is now underway on a microSD SD Express card.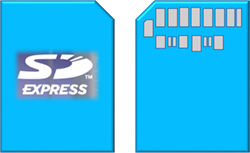 SD Express, part of the SD 7.0 specification, defines a full-size form factor using two power supplies: a traditional 3.3 volt and 1.8 volt. SD Express also allows an optional 1.2v supply for future form factors that would require additional pin #18. The future optional 1.2 volt will allow additional power/performance optimization. Cards using SD Express may consume up to maximum of 1.80 Watts from the host, representing the accumulated wattage from the two power supplies.
The figure below shows the bit rate performance levels of SD Express: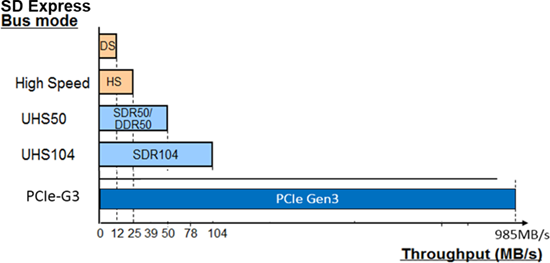 SDA's white paper,SD Express Cards with PCIe® and NVMe™ Interfaces, offers more technical details, along with some of the benefits that card and system manufacturers may get by SD Express adoption. The following SD protocol features are supported partially by the PCIe/NVMe interface, assuming use of NVMe version 1.3. In the future, NVMe may fully support these features:
Password Lock/Unlock: The card may be password locked/unlocked only through the legacy SD interface. A locked card does not allow access to the memory, either through the SD or through the PCIe/NVMe interface.
Write Protect features: The card may be set to write-protected mode through the legacy SD interface. A write-protected card does not allow any write operation to it, either through its SD interface or through the PCIe/NVMe interface.
The following traditional SD features are not supported through the PCIe interface:
SD CPRM Security: If the SD Express host access card includes CPRM encrypted files through the PCIe interface, it will read them as encrypted data, yielding the same result as inserting the card to any SD host that does not support CPRM.
Speed Class, UHS Speed Class and Video Speed Class are not supported through the PCIe interface.
SD Express Benefits
SD Express includes the legacy SD (UHS-I) interface as well as PCIe and NVMe interfaces – both industry-proven successful protocols.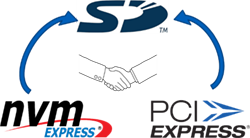 By relying on successful protocols already in the marketplace, the industry can leverage existing PCIe and NVMe designed blocks as well as existing test equipment, saving on development processes. When companies use existing building blocks of existing designs, this translates to cost savings as well as an improved bottom line.
SD Express is eventually combining the best and most popular protocols for removable memory devices into a single, reliable SD card form factor, as shown in the below figure:

With the existing support of major operating systems and the popularity of drivers supporting PCIe and NVMe, the market adoption of SD Express should be seamless.
With the SD 7.0 specification, the SDA extended the limits of traditional SD memory cards' capacity to meet the ever-growing needs of users everywhere. In addition to SD Express, the SDA also created SD Ultra Capacity (SDUC) to extend the potential maximum SD memory card capacity from 2TB to up to 128TB. SD Express may be implemented on SDHC, SDXC or SDUC memory cards.
The Takeaway
While the sequential and random performance of the existing SD interface may be good enough for most of today's uses, new applications will require ever-higher performance levels – which may be achieved with the newly released SD Express, using its added higher performance PCIe and NVMe interfaces.
With SD memory cards used for higher capacity as well as for speed-intensive and/or multi-channel applications, there is a growing need for a big jump in random and sequential performance levels as well as more modern protocols. The SD Express feature demonstrates new opportunities for SD memory cards and opens a whole new world of uses while keeping backward compatibility to billions of existing SD hosts, creating benefits for both consumer and industrial users.
Yosi Pinto is Director of standards in the CTO office at Western Digital (former SanDisk) and chairman of the board
at SD Association. Pinto can be reached at
Yosi.Pinto@wdcsandisk.com.
PCI Express® is a registered trademark of PCI-SIG®.
NVM Express™ and NVMe™ are trademarks of NVM Express, Inc.

1 Source: ABI Research Edge Analysis in IoT, 2017, as presented by Chris Bergey in Computex 2018

© SD Association. All rights reserved. SD, SDHC, miniSDHC, microSDHC, SDXC and microSDXC Logos are trademarks of SD-3C LLC