Drones, also known as unmanned aerial vehicles (UAVs), are one of the most popular and quickly growing segments of the camera market, providing new possibilities for professionals and enthusiasts alike. Along with the explosive growth of this market comes an ever-growing demand for high-performance, high-capacity removable microSD storage to meet its needs.
A Brief History
In many new technology markets, there are often smaller supporting technologies that all align at just the right moment to enable a previously unseen new market to develop.
When action sports cameras began to grow in popularity in 2004 with GoPro's Hero, a number of key technologies combined to create an entirely new product category and market. Low-cost MPEG-4 and JPEG compression codecs, packed into a small form factor with a waterproof enclosure and a standardized mounting system, enabled a wave of new uses to develop and helped offset unit declines in the digital imaging market.
Supporting this new market was extremely small, high-density removable storage — a key underlying technology that largely goes unnoticed in today's era of 256-GB USB flash drives and multi-terabyte solid-state drives. This low-cost, low-power storage solution appeared in the form of microSD memory cards and enabled HD video and multi-megapixel still images to be captured in an extremely compact package.
Drones have followed a path similar to GoPro. As with the action sports camera market, low-cost, high-density microSD memory cards have proven the obvious storage choice for capturing high-resolution video and still images, with capacities now available at 256 GB in an extremely small package.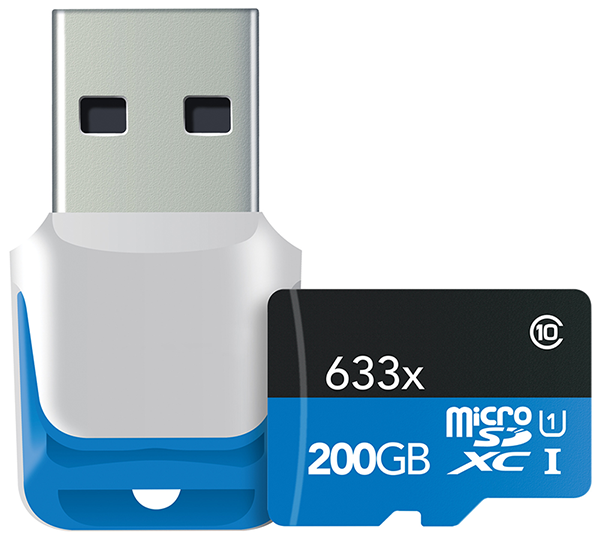 A high-capacity, high-performance removable memory solution (microSDXC card and reader)
The Current Market
Recently published data from the Consumer Technology Association (CTA) shows that the growth in the aerial imaging space has been meteoric. In 2013, only 128,000 units in this product category were estimated to have sold in the United States. Many of these were in the low-cost "toy" category, with poor flight control characteristics, limited range and relatively poor image quality. Now, the CTA has forecast that more than 2.8 million units will be sold in the United States in 2016, while Business Intelligence pegged the worldwide market at 7.1 million units.
Colin Snow of Skylogic Research has forecast that United States camera drone sales in 2016 could exceed $1.5 billion depending on final Federal Aviation Administration guidelines for small unmanned aircraft systems, which, when meshed with his forecast of 2.85 million u_03nits, places the average price point for a UAV at approximately $535. With price points now within reach of many consumers in developed markets, the ability of both enthusiasts and professionals to capture very high-quality aerial images and video is now well within reach.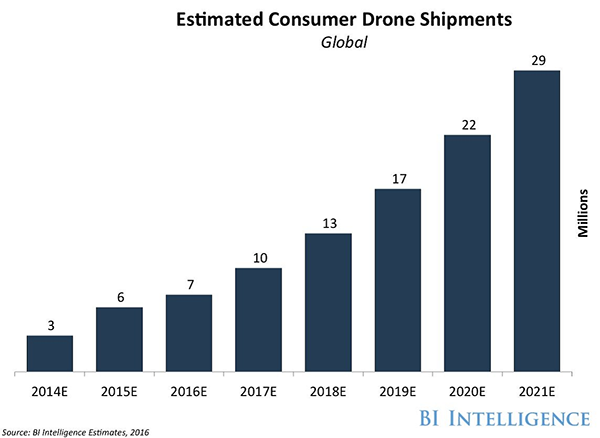 There is one big winner in the drone space: DJI of Shenzhen, China. According to Frost & Sullivan, DJI commanded 70 percent of the aerial imaging market in the United States in 2015. DJI has been able to capture an early lead on units and revenue by rapidly innovating features and capabilities. It is the only major provider of products in this category that bundles a microSD memory card with every unit shipped. Currently, all Phantom and Inspire models include a high-performance 16-GB microSDHC card, which allows approximately 60 minutes of high-quality, 1080p/60 FPS full-HD video to be captured. Because DJI has opted for removable storage, its consumers can easily scale up their drone memory capacity by simply removing and replacing the factory-standard 16 microSDHC card with a bigger card.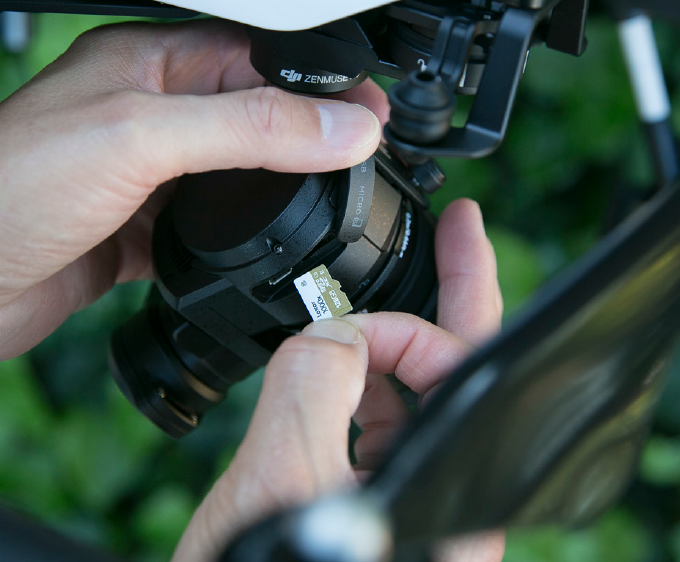 DJI Inspire 1 Pro with included removable storage
Storage Capabilities and Benefits
When looking at several important usage models in drones and aerial imaging, a number of proof points clearly support the strengths of removable microSD storage in these products when compared to an embedded memory alternative:
Upgradeable storage – as a user's needs grow, so does the need for more storage
Faster data transfer via a card reader is more important than a USB cable or wireless data transfer
Higher-quality local image capture is preferred over wireless streaming image capture
Lower-power reader data transfer is faster than wireless data transfer
The proof points between removable versus non-removable designs are clearly seen in the table below:
| | | |
| --- | --- | --- |
| Feature | Removable storage | Non-removable storage |
| Scalable storage | 16 GB to 256 GB; user selectable | Fixed at factory; non-upgradable |
| Data "download" transfer speed | 82 MB per second (130x faster than wireless/3x faster than a cable) with reader | 0.6 MB per second (wireless)/28 MB per second (cable) |
| Higher-quality images | Full resolution capture to card | Sub VGA capture via wireless |
| Lower-power data transfer | No impact on battery with reader | Drains battery during transfer |
The Future
microSD memory cards in drone applications have a bright future. Emerging drone requirements for higher resolution, such as 8K, multiple sensor and 360-degree video capture, will drive the need for greater performance and capacity in removable storage. The SD Association's new Video Speed Class specification will meet these requirements. Larger amounts of storage needed per drone flight will emphasize the speed, image quality and battery life impacts shown in the table above to an even greater degree.
One of the hottest growth trends in imaging today, 360-degree capture — both for still and moving images — is taking off. Multiple manufacturers now have brought to market first-generation 360-degree capture devices, including GoPro, Ricoh, Nikon and even the re-emerged Kodak.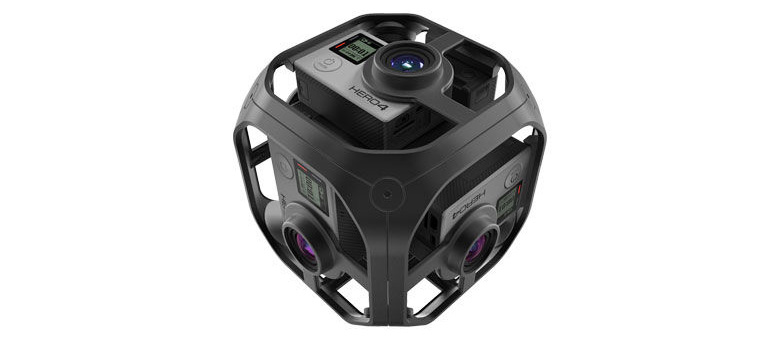 The GoPro Omni spherical rig, one of the latest product launches in the 360-degree imaging market
For aerial imaging, video is clearly the most interesting medium for 360-degree capture. Currently, no major aerial imaging manufacturer has productized a mainstream solution, but one needs only look at what is happening with some of the aforementioned products to project what impact 360-degree capture might have on storage in upcoming new aerial models.
| | | |
| --- | --- | --- |
| Device | Storage Type | GB captured per hour |
| Ricoh Theta S | Embedded 8 GB | 8 GB (at 1080p, 30 FPS) |
| 360 Fly Panoramic | Embedded 32 GB | 9 GB |
| Nikon Key Mission | microSDXC | To be announced |
| Kodak PixPro 4K | microSDXC | 27 GB (at 4K, 30 FPS) |
| GoPro Omni 4K | microSDXC | 162 GB (27 GB X 6 cameras, 4K, 60 FPS) |
| Giroptic 360cam | microSDXC | 43 GB |
Conclusions
Similar trends and implications for removable storage seen in the action sports camera market are now playing out in the aerial imaging market. The advantages of removable microSD storage in this space are very clear. Future trends in video resolution and multiple sensor capture are driving higher capacities and increased data rate performance. Barring any major changes in government regulation, the future of the aerial imaging category appears to be quite bright, and has emerged as the best opportunity for removable storage growth of any single market in the near future.
Wes Brewer is VP and GM of Lexar, a global brand of Micron Technology, a member of the SD Association.
© SD Association. All rights reserved. SD, SDHC, miniSDHC, microSDHC, SDXC and microSDXC Logos are trademarks of SD-3C LLC