It's always helpful to reflect on where you've been and where you're going – as well as take a good look at the environment around you, to see what might influence future developments – and that logic also applies to technologies, especially in the SD memory card ecosystem.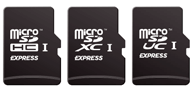 The microSD memory card reached new heights in 2018 and early 2019, with many SD memory card manufacturers unveiling microSD products offering Application Performance Class 2 (A2). A2 provides random read performance of 4,000 Input-Output Access Per Second (IOPS) and write performance of 2,000 IOPS. During this period, we also saw several card manufacturers introduce new microSDXC cards reaching the mind-boggling 1TB-capacity milestone.
In parallel, the SD Association recently released two new specifications: SD Express (June 2018) and microSD Express (Feb 2019). This new generation of cards incorporates PCIe® and NVMe™ capabilities alongside the SD interface. The PCIe/NVMe combination enables up to 985MB/s sequential data transfer and more than 10 times faster IOPS than standard SD memory cards.
With these powerful new capabilities, microSD memory cards are poised to support more applications than ever before, creating several new trends in the removable memory card space.
microSD Memory Card Trend Roundup
These are the key microSD memory card trends to keep an eye on.
Increased use of memory cards in gaming devices: The Nintendo Switch is a popular game console that shipped 32 million units as of December 2018, and it has a microSD slot for storing downloaded game software.

If game software requires more than 10GB of storage, Nintendo recommends using microSD memory cards to avoid shorting out the internal storage – specifically, a high-performance microSD card with UHS-I and 60 to 90MB/s read performance. Using a high-performance microSD card will mean less time to download and load game software into the console, and faster, more seamless scene changes during play.

Additionally, the Bandai game "Yokai Watch Elder" uses a microSD for its software update, and HyperX released its own gaming microSD.

Skyrocketing video content downloads: Content from video distribution services like Amazon Prime, iTunes, Netflix, YouTube Premium and cable providers, to name a few, is being downloaded onto smartphones or tablets at high rates. This feature allows users to enjoy their content offline in foreign countries or places like cruise ships and airplanes, without using an internet network.

Downloading video content requires high-capacity storage: 3 to 10 GB, depending on video quality per title, making microSD cards in smartphones or tablets even more important for downloading, storing and watching videos.

High-tech toys: A Takara Tomy toy tablet uses a microSD memory card to store pictures from the toy's 3D camera. A KidiBuz, a handheld smart device for children, also uses microSD memory cards, and even allows parents to update the device without an internet connection.
Developing regions: The smartphone market is growing especially quickly in developing regions like India, Middle East, Africa, Eastern Europe, and Central and South America. Lower-priced smartphones are sold in these regions, and their internal storage capacity is relatively smaller than smartphones sold in more developed areas. microSD memory cards let consumers expand their device's storage capacity by picking the right card with the right amount of storage to meet their needs. This provides an economical device upgrade option for millions of people.

Additionally, low-priced SIM-free smartphones are becoming popular even in developed countries like Japan. Approximately 70 percent of Android smartphones in the world have a microSD slot.

The popularity of drones: Toy drones in the hundred-dollar range are popular, and most drones have a microSD slot to capture stunning aerial videos.Current video qualities are 720P or Full HD (2K), but will be enhanced with 4K and 8K soon. This means drones will require high-capacity microSDXC and forthcoming microSDUC cards in the future.





Internet of Things (IoT) technologies: Many IoT modules with sensor ports and/or wireless communications are implementing a microSD slot.

A popular ARM-based module, Raspberry Pi, uses a microSD for booting OS and storing applications and data. Raspberry Pi was originally developed for educational purposes like computer programming. Today, more than 50 percent of Raspberry Pi modules are used for industrial applications like IoT technologies, embedded systems and digital signage controllers. Raspberry Pi has shipped approximately 30 million units to date.

Smart homes and Home Energy Management Systems use SD or microSD memory cards for recording data like energy consumption and storing sensor logs. In general, IoT systems connected to the internet require a security function to provide antivirus and anti-hacking capabilities. It is expected that robust security functions like data encryption, secure fast boot and secure SD card controller FW update functions, especially for IoT systems, will be included in future SD memory cards.





New automotive technologies: Popular SD memory card applications include car navigation systems (mostly full-sized SD memory cards) and drive recorders (mostly microSD memory cards).

Drive recorders are heavy-duty applications because they record onto a card constantly while a vehicle is being operated. Some microSD cards offer longer life, making them ideal for drive recorder applications; these cards may provide higher erase count than cards sold for consumer applications like digital still cameras and digital video cameras.

Some drive recorders have multiple cameras – for example, three cameras recording the front, back and inside of the car. Drive recorders with multiple cameras require high-capacity, high-performance microSDXC cards.

The rise of wearables: The wearable terminal market, which includes head-mounted displays, virtual reality terminals and augmented reality terminals, is growing in both B2C and B2B markets. Some B2C head-mounted displays are implementing a microSD slot for downloading content and watching videos. These function as a standalone system, without using a PC or smartphone.





Looking Ahead

SDA is expecting growth from applications like gaming, drones, cameras, mobile computing, IoT and smartphones to adopt microSD Express in the near future to provide high-performance, high-capacity external storage. Some of these applications may still be in the development phase in 2019, but SDA will continue to promote the adoption of microSD Express in new smartphones.

Additionally, as 5G becomes a reality, smartphones will require higher-performance storage, and microSD Express will be ideal for this. Card slots on PCs and USB readers may use microSD Express (or SD Express) before being adopted by smartphones. PCIe and NVMe technologies are popular for these applications.

To keep ahead of the trends driving new usage and applications of removable storage, the SD Association makes continuous efforts to provide high-capacity, high-performance SD card standards. SDA is considering a new verification program to increase compliance levels of high-performance SD cards like UHS-II and SD Express cards, because UHS-II and SD Express offer a high degree of interface technologies, including signal integrity, and this require a high level of verifications. This program will help avoid interoperability issues among SD host systems and SD cards in the market.

With so many exciting new applications for microSD memory cards, the future is looking very bright indeed.

Hiroyuki Sakamoto is President of the SD Association. Hiroyuki can be reached at hiroyuki.sakamoto@sdcard.org

PCI Express® is a registered trademark of PCI-SIG®. NVM Express™ and NVMe™ are trademarks of NVM Express, Inc. All product names, trademarks and registered trademarks are property of their respective owners.

© SD Association. All rights reserved. SD, microSD, SDHC, microSDHC, SDXC, microSDXC, SDUC, microSDUC Logos are trademarks licensed by SD-3C LLC.