User experience, and the constant need for more efficient and cost-effective products, continue to drive innovation of new technology and the evolution of SD standards. For that reason, the SD Association is committed to defining and adopting new standards through its Technical, Compliance and Marketing Committees, representing the interest of more than 800 member companies worldwide.
Before storing data on a memory card, however, it is important to understand how your intended use, or application, correlates to the various SD memory card symbols, and how those symbols represent SD specifications.
Here are the five important traits users need to know about SD memory cards.
1 – Different Applications Require Different Cards
The demand for more storage is everywhere, and industrial applications often require durability and data integrity as crucial performance factors. Consumers, on the other hand, may require higher capacity and application performance speeds. Consider the following application scenarios:
Digital data storage needs tend to be larger and require faster performance in a number of applications, such as smartphones, digital camera, video recording, surveillance systems, Internet of Things (IoT) and Advanced Driver Assistance Systems.
Saving and running apps on a card used in an Android Marshmallow (or higher) or Windows smartphone requires the use of cards supporting a minimum level of random access, such as the Application Performance Classes.
Automotive driver monitoring systems and navigation systems require larger-capacity cards (32 to 64 GB) to support more applications and 3-D image content.
Sensor-based and wireless systems use microSD memory cards for run-time data caching and storage.
Some host devices are designed to support older SD specifications; therefore, memory card suppliers can downsize or change the card settings when the suppliers initialize the SD memory card.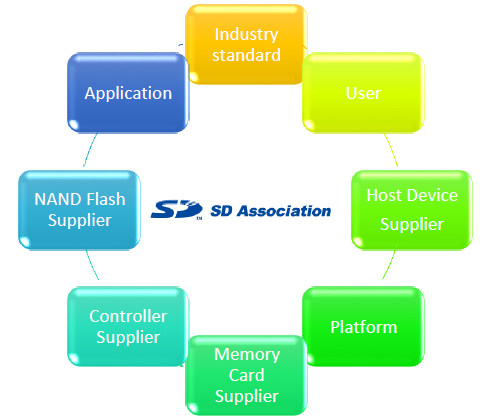 2 – Symbols – Capacity, Speed & Performance
To embrace market needs, the SDA updates SD specifications by adding new functionalities. In the past year, the SDA announced a variety of new features:
| | |
| --- | --- |
| | UHS-III bus interface is ideal for a transfer rate up to 624 MB/s to move huge files between a card and a host device more quickly. |
| | Video Speed Classes V10 through V90 provide superior storage and playback of any quality of video. For example, drones, 360-degree cameras and virtual reality (VR) require Video Speed Class cards supporting 4K or 8K video recording to ensure uninterrupted filming and use. |
| | Application Performance Class 1 (A1) is great for consumers running apps and offers random read IOPS 1500, random write IPS 500 and Sustained Sequential performance of 10 MB/s. |
| | Application Performance Class 2 (A2) will support advanced app functionality and offers 4,000 random read IOPS, 2,000 random write IOPS and sustained sequential performance of 10 MB/s, plus new 1.8V Low Voltage Signaling (LVS), Command Queue, Cache, and Self-Maintenance functionality. |
These symbols of bus interface, capacity and performance can be found on memory cards with user-friendly explanations and tips on the SDA website under "About SD Memory Card Choices."
3 – NAND Technology
NAND Flash is a key component of memory cards, and NAND Flash types can be divided into SLC (Single Level Cell), MLC (Multi Level Cell) and TLC (Triple Level Cell).
Users focused on value in terms of cost per gigabyte (GB) typically prefer TLC NAND Flash. When MLC migrates to TLC, users may enjoy the cost advantages without realizing the consequence of cell degradation and shrinking voltage margins until the higher failure rate catches their attention.
Industrial or automotive applications typically select SLC and MLC storage devices for better endurance and lower total cost of ownership. To achieve better longevity, pseudo SLC, which speeds up read and write speeds by treating MLC flash like SLC using a special firmware algorithm and density tradeoffs, is now used for high-endurance applications such as surveillance systems.
To break the lithography limitations of sub-15nm planar NAND, 3-D NAND vertical layer stacking expands storage by allowing large numbers of electrons per cell, independent of scaling. Decreased interference between cells leads to higher cycling endurance; the graphic below shows the decreased interference between cells in 3-D NAND. Considering cost per GB, TLC is still the mainstream for 3-D NAND, but Quad-Level-Cell or even higher is the future.


Source: Micron
Although the benefits of 3-D NAND are tremendous, we are still collecting data on it via experiments and experiences; one item to note is the high endurance requires stronger error-correcting code algorithms, such as low-density parity-check code.
There are two kinds of memory cell storage technologies used in NAND flash memory: floating gate (FG) cell and charge trap (CT) cell.
The graphic below shows the differences in the way the two technologies are set up.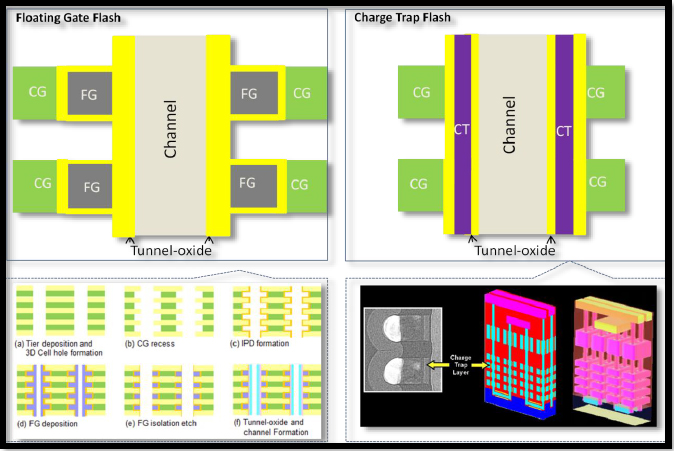 Source: Intel/Micron/IEDM
Image source: spansion.com / Flash Memory Summit 8-13-13
Retention loss, in which cells are not charged frequently, is an intrinsic NAND characteristic. Though there are debates on moving 2-D FG to 3-D FG or 3-D CT, users are still on the fence and stay with the 2-D FG for smaller-density, read-centric applications. Large-density users are tend to be write-intensive and benefit from the new technology.
A certain firmware refresh algorithm running in the background is able to enforce the scanning, correcting and refreshing process to reduce error bits of non-accessed cells. A similar preventive approach for 2-D SD cards could be considered in 3-D SD cards in the future.
4 – Reliability
SD memory cards are tough. They can resist water, bending, torque, electrostatic discharge and 10,000 different insertions within a designed specification. Their outside mechanical design combined with internal system management creates a very durable card.
Removable devices require power failure protection, but the capacitors do not fit in the limited space. A power failure protection firmware plays a critical role for data integrity; various schemes could be applied, such as SLC mode caching, multiple backup and programming all cells in a word line at the same time.
Other features target different NAND characteristics. The Static Data Refresh firmware algorithm prevents read disturbance by moving data from high-error bits blocks to a healthy one. Moreover, the risk of data retention can be minimized with Dynamic Data Refresh, the sequential background scanning mechanism. With 4K management firmware architecture, higher random IOPS is achieved to meet Application Performance Class.
All of these features are proven in 2-D NAND SD memory cards, but the effects on 3-D NAND are still under evaluation. A thorough development phase and mass production level test will ensure a reliable product.
5 – Compatibility & Optimization
One size doesn't fit all; there is no perfect solution for diverse use cases. Despite a concerted effort to better understand SD memory cards, the only way to find out is to test them by using these cards along with host systems – by experimenting with the essential elements, then conducting simulation in the real application in terms of platform, temperature and test patterns. An SD life monitoring tool can be used to determine health status before and after the test. Therefore, after a validation test, to optimize the system, customization is possible. In some cases, host device vendors can integrate SD life monitoring functions into their software system by special vendor command.
Solving the data storage needs for a variety of users requires a variety of solutions to meet technical and budget criteria, and SD memory cards are a bite-sized storage solution with lots of functions to fit many divergent applications. The SDA continues to update its specifications to meet the needs of today and for the future.
Crystal Chang is the leader of ATP's memory card business unit. Chang leads memory card development, designs and implementation in automotive, automation, avionics, medical, IoT, test and measurement, and industrial applications. Chang can be reached at crystalchang@tw.atpinc.com.
© SD Association. All rights reserved. SD, SDHC, miniSDHC, microSDHC, SDXC and microSDXC marks and Logos are trademarks of SD-3C LLC.