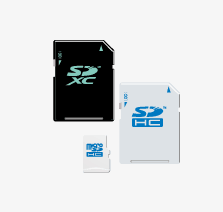 The SD Association is a global ecosystem of companies setting industry-leading memory card standards that simplify the use and extend the life of consumer electronics, including mobile phones, for millions of people every day.
The Association does not manufacture, market or sell any product; it exists to create standards and then promote the adoption, advancement and use of SD standards used by competing product manufacturers that make interoperable memory cards and devices.
---
Established in 2000
Panasonic, SanDisk Corporation and Toshiba (now KIOXIA) Corporation established the SD Association in January 2000 as a new industry-wide organization to develop and promote memory card storage standards. Today, the SD Association has approximately 800 members involved in the design and development of SD standards.
As the industry standard, SD standards are used by hundreds of brands across dozens of product categories, such as digital cameras, televisions, personal navigation devices, mobile phones, smart phones, automobiles, computers of all types and video cameras, to name just a few. There are thousands of device models using SD standards today.
The very small memory cards developed to SD standards have become the most popular portable storage cards in the world.
---
Membership
Membership in the SD Association is open to anyone and provides up-to-date information on the complete portfolio of SD standards, allowing members to develop products and solutions designed to the standard and interoperable with other SD-compatible devices.
Members have the opportunity to participate in SD Association standards development activities such as committees and working groups that are designed to advance the way consumers save and use photos, music, documents, games, maps,movies and other innovative applications made easier by SD standards.