SD Separate Delivery (CPRM Mandatory)
SD Separate Delivery (SD-SD) enables flexible distribution to manage a variety of content while protecting copyrights. In the SD-SD, the content key and content data can be treated separately. SD-SD supports the following distribution schemes.
Writing data at kiosk terminals
Pre-loaded content
Download and recording
Key download
The SD memory card can be used as a key storage dongle, as well. Only keys are stored in the SD memory card. A user can play back content data in devices only when the SD memory card is inserted in the device. Users need to use CPRM compliant SD memory cards for saving the key information.
SD-SD provides several content format profiles. Some profiles have compatibility with the corresponding SD Application, such as between SD-SD Audio and SD-Audio. SD-SD Audio content can be exported as content in SD-Audio format.
SD-SD Application Profile
Audio
Specifies audio content format, such as AAC
Possible to export as SD-Audio format
Video
Specifies video content format, such as H.264
Possible to export as SD-Video format
eBook
Specifies eBook content format combined with text, image, sound and video
Standard open to other major eBook formats upon demand
Writing at kiosk terminals

Pre-loaded SD Memory Card

Download and recording

Key Download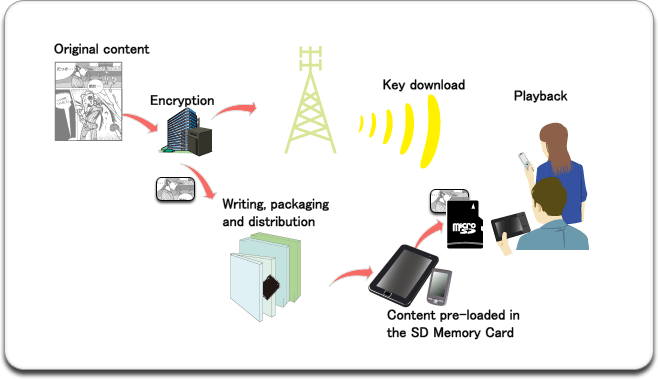 Key storage dongle