History of SDIO Standardization
SDIO was introduce in 2001 and it played a role of increasing SD host devices. SDA defined several SDIO Standard Functions Cards such as Bluetooth®, GPS, Camera, etc.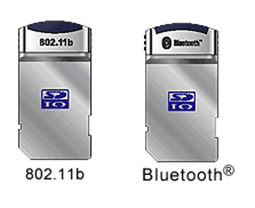 SDIO is gradually utilized to connect I/O devices as embedded by using multiple devices connection feature on an SD bus. SDIO Interface became popular by acquiring great interest in simple SD bus connection feature and higher bus speed modes support. Embedded solution enables host system to access SDIO devices in anytime and SD Card Slot can be dedicated to SD Memory Card for user.
At present, most typical I/O functions are integrated in system SOC, and then SDIO is utilized mainly for wireless communication devices that is not proper for SOC integration due to rapid progress of wireless standards that pursue higher bit rate communication.
Standard SDIO Function
Standard SDIO Function is intended to make SDIO Card usable without installing special function driver so that anybody can use SDIO Card instantly.
However, standardization of SDIO function is not essential if I/O function drivers can be pre-installed in host system (an operating system) or host device is capable of installing a specific driver through internet. Standardization of a function application interface (API) is supposed rather much more important to control SDIO device. However Function API will depend on kinds of OS.
SDIO LAN Controller was an example that could not be defined as SDIO Standard Function because several types of LAN controller register interface already exist in the market and it was impossible to select only one register set as SDIO standard.
iSDIO Specification
Intelligent SDIO (iSDIO) was introduced in 2013. iSDIO Specification is defined as a subset of SDIO Specification for Combo Card. A part of SDIO register set is used for simplicity. iSDIO enables internal data transfer between memory module and I/O function module via Card Controller. High-Speed data transfer is possible by free of influence from bus interface speed limitation and host device overhead. iSDIO also enables two memory access paths; SD Bus Interface and Wireless Interface of I/O function. SDA standardized iSDIO functions such as Wireless LAN and TransferJet.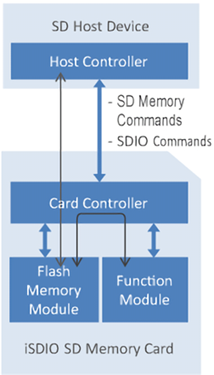 Function Extension Specification
There were many SD Host products that supported SD Memory Card but the number of SDIO supported hosts was small. Memory Host Controller was considered unsuitable to control I/O function due to at least 512-byte unit access, while I/O function requires byte unit register operation.
"Function Extension Specification" was introduced from the Physical Layer Ver.4.10 to solve this issue.
It enables hosts to operate register space in byte unit even by Memory Host Controller.
As iSDIO Specification adopted the Function Extension, iSDIO Combo Card could be implemented so that most existing hosts can use it iSDIO Combo Card can implement not only SDIO commands but also Function Extension commands. Function
Extension provides better usability regardless of host types and SDIO provides better control efficiency by using quick SDIO commands. iSDIO has another advantage that gets free from a burden to trace SDIO "tuples" during initialization. "General Information" defined by Function Extension provides initialization information instead.
Combo Card Types
There are two types of Combo Cards:
(1)

ASSD [Part A1, A3] is security interface for SD Card using Switch Function Command Set. smart SD is ASSD Combo Card.
(2)

iSDIO [Part E7] is simplified interface of SDIO but rather having flexibly in command set. Then iSDIO should be adopted for Combo instead of SDIO. Wireless LAN Card and TransferJet Card
are iSDIO Combo Card.