Introduction of SD Card Host Controller for SD Card Promotion
SD Host Controller Ver.1.00 was introduced in 2004 as a standard controller to manage SD Cards (SD Memory and SDIO).
SD Host Controller was implemented not only mobile devices but also PCs with Windows native support that contributed to spread SD Memory Card market.
In this way, most Note PCs mounted Standard Size SD Card Slots.
SD Card access by applications is converted to a sequence of SD commands by SD Memory Driver and SDIO Driver.
Host Controller Driver (Common Bus Driver) sends those SD commands to SD Card through the Host Controller that is connected to PC system bus (PCIe).
Single SD Host Controller can manage multiple SD Cards by supporting multiple SD Slots.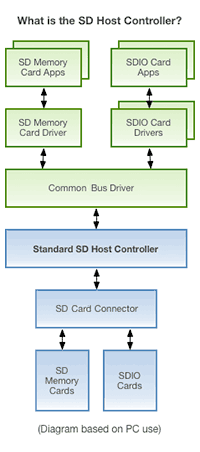 SD Host Controller Extension
SD Host Controller has been extended in connection with the Physical Layer functions extension.
Major improvement aimed increase of data transfer rate by supporting higher SD bus speed modes and improvement of Direct Memory Access (DMA)
SD Host Ver.2 supported ADMA2 that can handle scattered paging data in system memory (scatter gather DMA).
SD Host Ver.3 supported UHS-I bus modes.
SD Host Ver.4 supported UHS-II bus modes, ADMA3 and 64-bit system memory addressing ADMA3 can execute multiple of ADMA2 data transfers without intervention of Host Driver by Descriptor programing.
Host Driver operation is hidden behind data transfer without overhead. That is why AMDA3 can achieve high efficiency data transfer.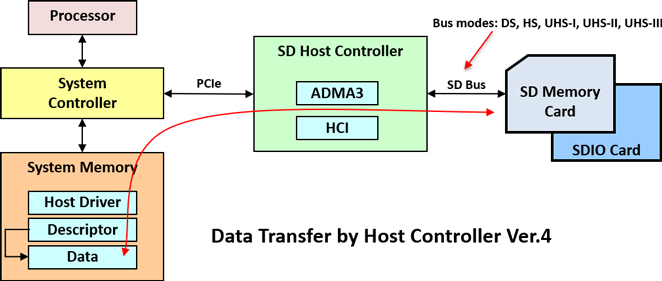 SD Host Controller For SD Express Card
An overview for SD Express host implementation document can be found here: