Membership delivers the latest information from the SD Association, including access to new standards development, Association developed specifications, the opportunity to license symbols and marks that allow you to properly develop products and solutions and maintain compatibility with other SD devices.
As a member, you have the opportunity to participate in SD Association activities and take part in advancing the technology of the industry's leading memory card and host device standard.
If your company is planning to engage in design and development which utilizes SD standards, you need to join the Association today. By joining the Association, you are able to obtain an SDA License Agreement
SD Association Membership Levels
Two levels of membership are offered in the SD Association, and you may select and apply for the membership level which suits your needs.
Executive Membership
►Annual fee: US$4,500
General Membership
►Annual fee: US$2,500
It is a membership level for companies wanting to participate directly on the board and committees, vote on specifications, etc.
It is an easy-to-join membership level, suitable for companies wanting to use completed SD standards.

Members have the right to attend all SD Association meetings and vote on all SD Association issues.

 

Members may be elected to serve on the Board of Directors.

 

Members can receive all SD Association publications.

Members can attend all meetings of the SD Association.
The New Membership Application Process
If you wish to become a member of the SD Association, please apply using the following procedure.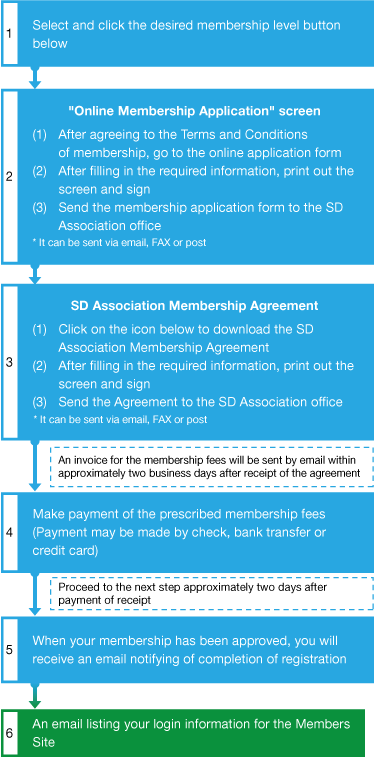 [Send membership application
form/agreements to ]
SD Association
5000 Executive Parkway, Suite 302 San Ramon, CA 94583 USA
Phone: +1.925.275.6615
Fax: + 1.925.275.6691
Email:help@sdcard.org
Join the SD Association Now
Important Matters regarding Application for Membership
Membership Agreement requires the applicant to read, understand, and agree to fully support and abide by, all of the principles, policies and procedures as set forth in the Amended SD Association's By-laws, Antitrust Guidelines and SD Association IP Policy.
Annual member dues are automatically billed to the member company every year. However, this does not apply if the member officially resigns from SD Association membership in writing to the SD Association office at least 30 days prior to renewal date.