Low Voltage Signaling – Another new SD 6.0 specification feature
Silicon foundries have been fine-tuning system on a chip (SOC) integrated circuit technology for use in devices such as smartphones, with recent progress pushing the powerful chips to the 7-10 nanometer range. These SOC developments will enable smartphones to offer higher performance with less power consumption. Designing SOC's, which use finer processes and lower voltage supply, is easier when restricted to 1.8V signaling.
SD memory cards have used a 3.3V signaling interface since the SD standard was introduced in 2000 and through SD Specification 3.0, when 1.8V signaling was added with the UHS-I bus mode, the ultimate removable single-ended interface. UHS-I adopted 1.8V signaling because it is suitable for faster rise/fall time and lower electromagnetic interference. However, UHS memory cards still require 3.3V signaling to initialize the card so hosts need to support 3.3V signaling, too. UHS-II is another option for a low-voltage interface for host devices supporting that specification and offering 1.8V power supply. Therefore, UHS-II is a solution for higher performance applications which require more than UHS-I performance.
Now, SD Specification 6.0 introduces the Low Voltage Signaling (LVS) memory card that may support either 3.3V or 1.8V signaling with an auto detection mechanism of the host's operating signaling level. It coincides with new SOC designs while keeping full backwards compatibility to legacy 3.3V signaling hosts. The new specification now lets LVS host devices start in UHS-I 1.8V mode directly after power up on the LVS card.
Low Voltage Interface Supported Card Types
LVS memory cards are compatible with conventional host devices, and may also support UHS-II and UHS-III host devices. Table 1 shows LVS card types defined by SD Specification 6.0.
| | |
| --- | --- |
| LVS Types | Description |
| LV50 | SD Memory cards supporting 50 MB/s UHS-I Card |
| LV104 | SD Memory cards supporting 104 MB/s UHS-I Card |
| LV156 | SD Memory cards supporting 156 MB/s UHS-II Card |
| LV624 | SD Memory cards supporting 624 MB/s UHS-III Card |
Table 1: LVS Card Types
LVS cards are designed to start command/response communication either with 3.3V signaling modes or 1.8V signaling modes. An identification sequence after power up, called LVS Identification, is used to select either signaling mode. LVS cards can identify LVS hosts via the LVS Identification by checking the specified clock period on SDCLK pin and signal lines level at clock edge. If an LVS host is identified, the LVS card selects 1.8V signaling; otherwise, it selects 3.3V signaling. An LVS host can identify an LVS card by checking the specified card signal level during the LVS Identification.
Host and Card Combination
Figure 1 shows host and card combinations:

The LVS card is fully backwards compatible. It is usable either by conventional hosts using 3.3V signaling or by LVS hosts that operate only with 1.8V signaling.
An LVS host may operate only with the new LVS cards. However, conventional UHS-II cards may also operate if a UHS- II mode is available by the host and chosen by the user.
An LV symbol identifies LV Interface supported SD products for users. An LVS host will bear the LV symbol somewhere on the product, package or manual. LVS device users need to use a corresponding SD memory card with an LV symbol for their LV-marked device. On the other hand, an LVS card is usable by any host, including hosts that do not carry the LV symbol.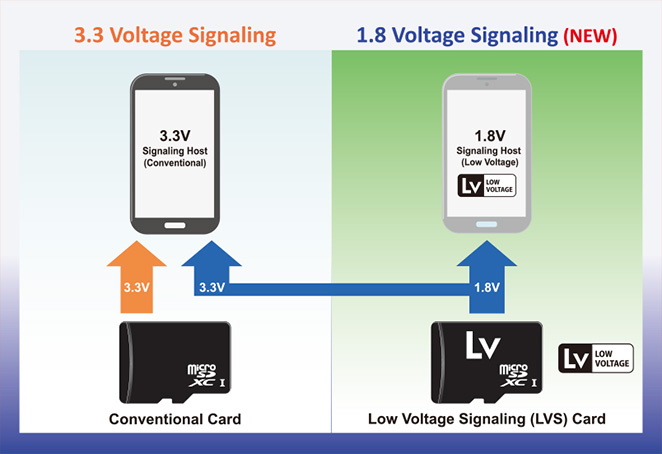 Figure 1: Host and Card Combination