An Introduction to SD Standards
SD standards enable manufacturers to deliver high-performance products that enhance the experience of millions of people every day who listen to music, record videos, take photos, save data and use a mobile phone.
As the industry standard, the SD standard is utilized across multiple market segments of the portable storage industry,including mobile phones, digital cameras, MP3 players, personal computers, tablets, printers, car navigation systems,electronic books, and many other consumer electronic devices.
"Universal, portable and convenient SD standards lead the market today and will continue to evolve with the future of the digital world."
There are three defined form factors for SD Card; full size, miniSD and microSD. microSD took replaced miniSD, therefore, two form factors are more commonly found in the marketplace and are shown in table below.
Conventional SD memory cards only have one row of pins including a 3.3V power supply VDD that are used for Default Speed,High Speed and UHS-I bus interface modes. Full size cards have 9 pins (two VSS) and microSD cards have 8 pins (one VSS).
Faster bus transfer speed cards have a new pin layout on the second-row to support UHS-II, UHS-III and SD Express transfer speeds. 1.8V VDD is included in the second-row pins. All UHS-II, UHS-III and SD Express cards require two power supply
voltages 3.3V and 1.8V.
Non UHS-II microSD Card may extend two antenna pads for contactless applications but antenna pads will interfere the second row of UHS-II/UHS-III Cards. NFC (Near Field Communication) Interface was defined alternatively that use Single Wire Protocol via a pad on the second row.
Form Factor
SD
microSD

Dimension

Card Capacity Type

SD, SDHC, SDXC and SDUC

Physical

Number
of pins
High Speed and UHS-I : 9 pins
UHS-II and UHS-III: 17 pins
SD Express 1-lane: 17-19 pins
SD Express 2-lane: 25-27 pins
High Speed and UHS-I : 8 pins
UHS-II and UHS-III: 16 pins

SD Express 1-lane: 17 pins

Operating Voltage

3.3V VDD range in the first-row: 2.7V – 3.6V
1.8V VDD range in the second-row: 1.70V-1.95V

Write-protect Switch

YES

NO
NAND technology showed amazing progress that provided exponential memory capacity increase. Much faster bus interface speed is required in accordance with increase of memory capacity to shorten access time to such capacity card.
UHS-II and UHS-III offer much higher bus speeds than UHS-I using Low Voltage Differential Signal (LVDS) found on the second-row pins. The new SD Express speed are the fastest. The first-row of pins on UHS-II, UHS-III and SD Express cards provide
backward compatibility and interoperability with conventional interface host devices.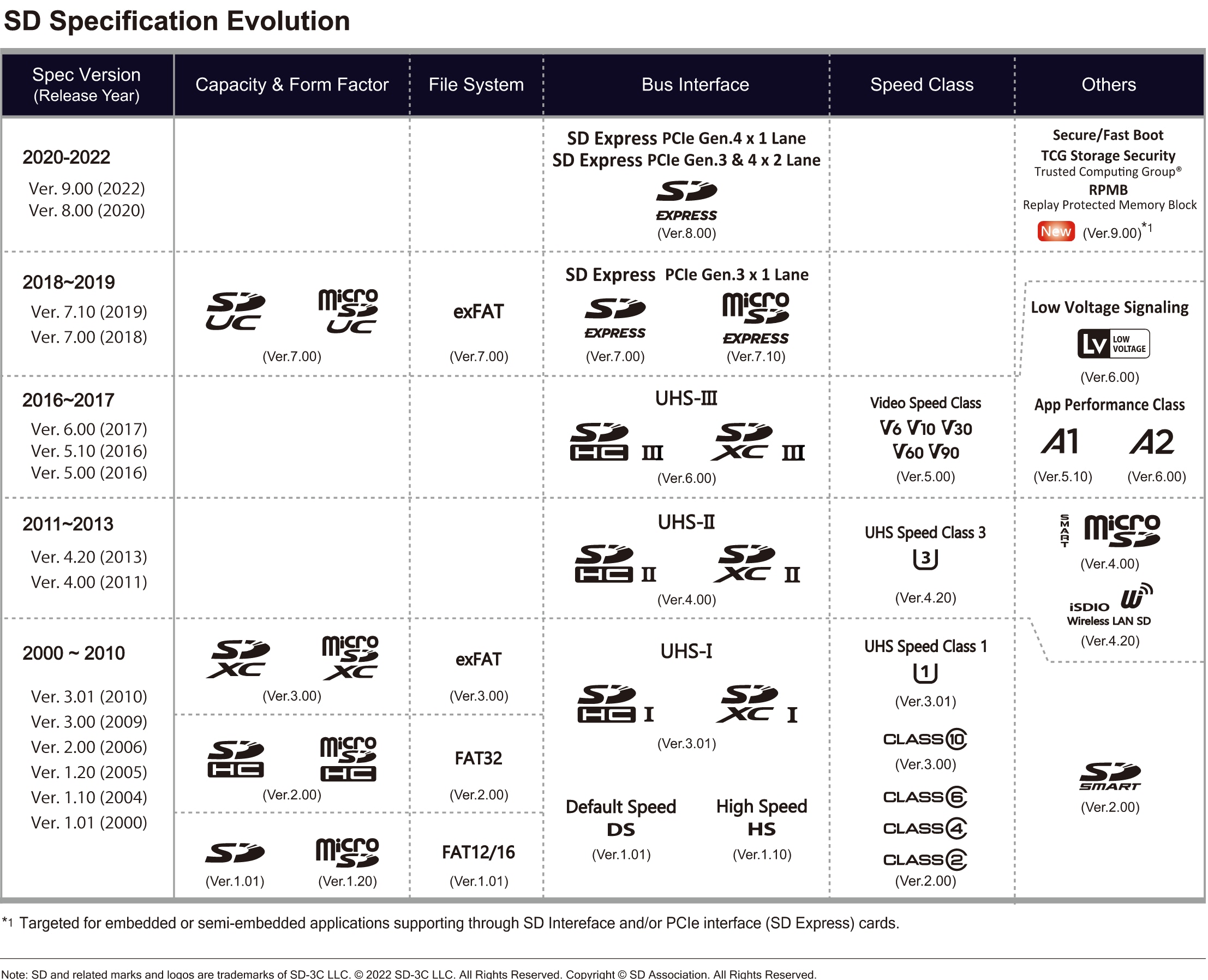 SD Standard Memory Cards
Simplified Specification Downloads
Simplified versions of selected SD memory card specifications are available for download by developers. To get access to the full specifications, simply join the SD Association.
Start Using SD Standards in Your Products
Interested in using SD standards in your next product?