We are living in an era of "pic or it didn't happen," where people find great joy, if not obsession, in documenting their lives through photography. Everyone with a smart phone has a camera ready at any moment of any day. When you add other devices such as drones, tablets and digital cameras, we are capable of taking an unbelievable number of photos. According to Keypoint Intelligence there were more than 1.43 trillion photos taken in 2020, with over 100 billion pictures captured with digital cameras.
This staggering figure is made even more impressive by the fact that photos need to be stored. While most of these images were taken on smart phone cameras, for photo enthusiasts, it seems nothing will ever replace the quality and output of a digital camera. According to Digital Photography School, there are essentially nine types of digital cameras. These include standard compact, zoom compact, adventure cameras, advanced compact, super-zoom, smart phone cameras, compact (mirrorless) system cameras, DSLR and medium format cameras. Common throughout all these types of digital cameras is the SD memory card, and it is no exaggeration to state that the photographic industry would not be what it is today without SD memory cards.
Photography Life said it well, "No matter what digital camera you shoot with nowadays, you must have some kind of storage where your media is going to be saved to. While some devices like phones and tablets often come with some built-in memory, you will often find yourself looking for ways to expand that storage by using memory cards or other external storage accessories. And if you shoot with a dedicated digital camera, you will find that it does not offer any kind of storage and you will need to buy at least one memory card in order to be able to store captured images."
According to FStoppers, "Memory cards are one thing that all digital cameras have in common. If you think about it, nothing happens if your photos don't get onto the card, and nothing happens if you can't copy them from the card to your computer. Your memory card can be the single most important component of your photography gear."
As stated in Camera Jabber, Nelson Duann, Silicon Motion's Senior Vice President of Marketing and R&D says, "Many of the latest high-end cameras and mobile phones are capable of recording video in 8K and require a fast transfer rate. With the SM2708 controller now supporting the SD 8.0 specification which offers more than triple the throughput, applications such as 8K video capture, raw photo capture, multi-channel IOT devices, multi-processing automotive storage and other applications requiring ultra-high data speeds are now possible."
Storage Capacity
In photography, capacity is king. While the first SD card storage was just 8 MB, 20 years later, card capacities offer massive capacities. The largest sizes commercially available today are generally 1TB, and with the new SDUC standard the 2TB limit of the current standard is removed allowing up to a maximum of 128TB.
Currently, there are four standards for capacity:
| | |
| --- | --- |
| | SD standard – Up to 2GB SD memory card using FAT 12 and 16 file systems |
| | SDHC standard – over 2GB-32GB SDHC memory card using FAT32 file system |
| | SDXC standard – over 32GB-2TB SDXC memory card using exFAT file system |
| | SDUC standard – over 2TB-128TB SDUC memory card using exFAT file system |
Speed Classes
Another important consideration for photos and videos is the memory card's writing speed. When photographers take several photos in rapid succession or shoot ultra high-definition videos, they require a memory card that won't slow them down. Memory cards vary greatly in capacity, bus speed, or how fast they can read and write information. To help photographers and videographers of all types, the SD Association (SDA) defined various speed standards to define the minimum sequential writing speed a memory card can provide. There are three types of speed indications: Speed Class, UHS Speed Class and the latest category, Video Speed Class. The best approach is to always match your card to your camera so you're getting the perfect marriage of performance and flexibility.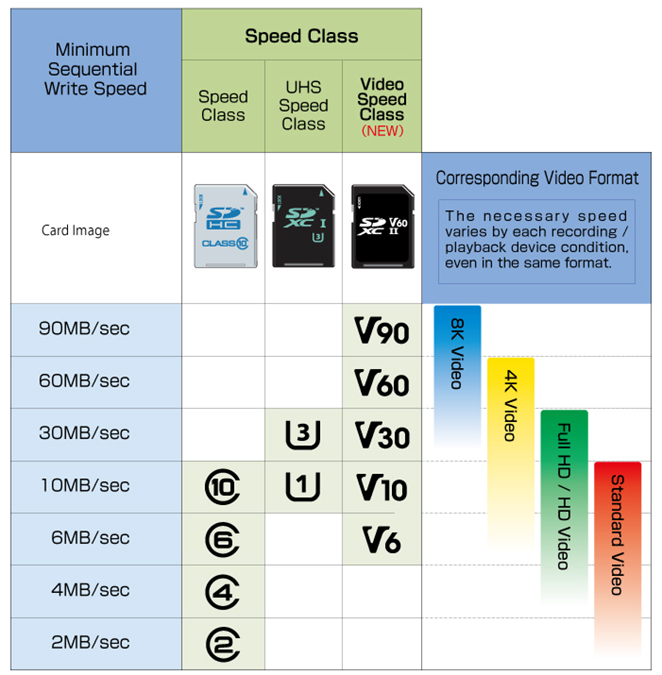 Speed Advantages in Photography
If capacity is king, then speed is the queen. Read/write speeds are critical for storing high resolution photos, burst mode photography as well as recording ultra-high-definition video, where a constant stream of data is stored on the memory card, requiring higher speeds. When shooting action shots or bursts of photos in RAW, the only way to do this is with a perfectly paired camera and card. Conversely, read and bus speeds describe how quickly data can be accessed from the memory card and transferred to another device like a computer.
The initial SD bus speed of 12.5MB/s is the Default Mode and was defined by SD1.0 in 2000. As higher performance levels were needed to support new and faster devices, the SDA introduced faster bus speeds over the years: UHS-I, UHS-II, UHS-III and SD Express. SD Express offers the fastest data transfer rates up to nearly 4 GB/s using PCIe® Gen.4 x2 and NVMe™ architectures.
Internal vs. External Memory
In the photography world, there is an ongoing debate whether cameras should have built-in memory storage. And despite compelling arguments on both sides, the majority of photographers continue to express their preference in working with a removable memory card. There are several factors as to why this is the winning stance.
Reliability: Memory cards ensure reliability that is critical for many professional photographers shooting with RAW format, at a very high resolution. This shooting technique creates large amounts of files and data that can fill up flash storage quickly. Using a large internal storage on a camera might seem to be handy, but it could create a larger loss if the camera failed. A memory card can be swapped out immediately, but internal storage cannot. The memory card provides photographers with support in case of a camera breakdown, allowing them to organize and store their work in a separate space.
Convenience: Most photographers still want to review their work on a laptop, tablet or smartphone, to decide which photos to keep and which ones to delete. Using a removable memory card allows for easy data transfer, since the external storage card can be easily removed from the camera and plugged into the computer to store, edit and share the digital assets. No cords, cables or internet are needed.
Flexibility: As noted earlier, memory cards offer flexibility for transferring and saving files. When photographers are on the job or at a location away from the office, they often need to view their videos and pictures on the computer as they continue to shoot more photos. Having an external memory gives them the ability to multitask: they can remove the memory card, view the files on the computer while continuing to capture the event with their camera using another memory card.
Expandability: Several cameras, including smartphones, have built-in storage. You may enjoy the convenience of built-in storage capacity, but you cannot replace built-in storage with a higher capacity. Memory cards can be easily replaced with another card, higher capacity or higher performance card if the device supports them. Purchasing new memory cards is much cheaper than purchasing new cameras or smartphones. High-end cameras have dual memory card slots that can configure mirroring function to provide higher reliability with writing the same picture on dual memory cards.
Reliable storage is crucial for everyone's workflow, but especially photographers and videographers. Because of the reliability, speed and expandability components, SD memory cards still represent the popular option for professional photographers looking to effectively and successfully safeguard their work.
Hiroyuki Sakamoto is president of the SD Association. He can be reached at president@sdcard.org.
SD trademarks are owned and licensed by SD-3C LLC.
PCI Express® and PCIe® registered trademarks of PCI-SIG®.
NVM Express™ and NVMe™ are trademarks of NVM Express, Inc.
© 2021 SD Association. All Rights Reserved.