In June 2018, the SD Association (SDA) released SD 7.0, introducing two major new functions: SD Express and SD Ultra Capacity (SDUC), which boosts the limits of traditional SD memory cards' capacity to meet the needs of users everywhere, both consumer and industrial, by extending the potential maximum SD memory card capacity up to 128TB.
Bigger isn't always better – but when it comes to removable storage, the sky may be the limit for the capacity consumers and industrial users need these days.
The Need for More
SDUC technology was developed to handle the ever-increasing removable storage requirements of modern devices, from 3G and 4G mobile phones, to the upcoming 5G mobile phones, DSLR cameras and ultra-high-density video recording.
width="300″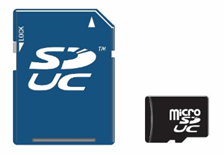 Consumer applications for large-volume storage include super-slow-motion video, high-quality video cameras (including 360-degree cameras), high-quality dashboard cameras (also known as driving event data recorders), high-quality gaming devices, and virtual reality/augmented reality devices. Industrial uses include Internet of Things devices, surveillance cameras, digital signage and for backing up a hard disk drive with SDUC memory cards.
One of the main drivers of larger storage capacity in SD memory cards is the trend toward high-quality 4K/8K video. In the case of video streaming by video service providers, typical 4K video data size will be 30GB per two hours (approximately one movie), and 8K video is slated to be three times larger than 4K video: 100GB for two hours of video. Data size depends on video compression quality, and while compression is possible for certain applications, others, like video-editing applications, require less compressed video to keep the high quality of the original data during the editing process.
YouTube supports 4320p/8K video format, but current internet bandwidth is not high enough to watch high-quality videos without frames being dropped, so current video streaming has to reduce video quality, depending on communication bandwidth. As internet capabilities and bandwidth improve, users will want to watch and store their high-quality videos on their mobile devices.
Video buffering will be a good solution to watch high-quality videos that do not require high bandwidth communication infrastructure at home, and SDUC memory cards will be suitable for buffering video-streaming data and for watching movies.
The Video Speed Classes will also help the host system keep the quality of service of video recordings.
From More Than 2TB to 128TB
Recent advances in NAND flash memory and manufacturing have enabled the creation of SDUC. 3D NAND technology, which can increase capacity per chip with layer-stack-mounting technology and packaging technology, now allows small memory cards to store multiple terabytes of data.
The SDXC spec was limited to 2TB due to its limited addressing capability – yet market needs like the trend toward 4K/8K, and the NAND technology evolutions, created a need to overcome the SDXC limit, allowing future growth up to the new limit of 128TB. The new SDUC surpasses SDXC's 2TB maximum, boosting the potential maximum SD memory card capacity from more than 2TB to 128TB, regardless of form factor. That means micro or full size, or interface type including UHS-I, UHS-II, UHS-III or SD Express, are supported with SDUC.
The SDUC specification is forward-looking; SDA is allowing the market to design new devices to accept these cards in the future. SDUC memory cards will have to be supported by new drivers and file systems on the host device, which is the same process that occurred when the SDA introduced SDXC.
New Drivers for SDUC Support in SD Mode
Drivers play a critical role in SD products. Generally, an application requests the host operating system to access the SD memory card, and the access is converted to the SD commands sequence by the SD host controller driver. Then, the SD host controller driver sets the SD host controller to send SD commands to the SD memory card.
As SDUC requires a new commands sequence that is different from SDHC and SDXC to extend address bits, the SD host controller driver will need to be modified.
An example command sequence is: SDSC/SDHC/SDXC uses CMD25 + CMD12 to write user memory area, but SDUC should use CMD23 + CMD22 + CMD25 sequence.
The host driver switches the command sequence depending on SDSC/SDHC/SDXC or SDUC. However, there is no difficulty in converting a commands sequence.
If a host device has the ability to update the host driver (for example, PCs and smartphones regularly update drivers), such a host device may be upgraded to support SDUC. In another case, an update of the host system driver will be required to handle SDUC error messages.
Even though the SDUC specification likely requires a card controller change, it is possible that hosts may support SDUC with only a driver update and no hardware change.
New SD Card Formatter for SDUC
SDUC is using the exFAT file system, which is the same file system as SDXC. However, SDXC is formatted with the Master Boot Record (MBR) format. MBR format has a capacity limitation up to 2TB. SDUC is formatted with GUID Partition Table (GPT) format, which can support capacity more than 2TB.
SDA will provide the new SD Card Formatter, which formats SD, SDHC, SDXC and SDUC, and works with the latest Windows and Mac operating systems. The new SD Card Formatter will be ready to download from the SDA website in 2019.
Other Changes on the Horizon
While the first SDUC products are expected to be in the 3TB or 4TB range, eventually, even larger SDUC memory cards will have other market and user benefits.
For example, the Internet of Things (IoT), including edge computing and autonomous devices, and artificial intelligence (AI) will completely transform industries across the board. IoT devices and sensors generate extremely large quantities of data, and AI in turn requires that big data to produce results. The SDUC memory card will be suitable for IoT storage and handling big data; big data is difficult to transfer over a network, while replacing a card in an IoT device is highly efficient. Intel's Bridget Karlin recently estimated that 40 percent of IoT data will be stored, analyzed and effectively live in consumer devices rather than a centralized data center or the cloud to minimize latency concerns for end users.
With regard to the SD Express Card, PCIe mode has no capacity limitation theoretically with 64-bit addressing space. Supporting over 2TB is possible for native PCIe mode without modification.
More Modern Protocols
All SDHC, SDXC and SDUC memory cards with SD Express will have SD UHS-I interface and symbols, allowing read and write operation on legacy SD interfaces. However, in order to reach maximum performance using its PCIe and NVMe interfaces, the host must support SD Express. Customers should match the SD Express host to an SD Express card for the highest performance and best user experience.
The innovations seen in the new SDUC capacity range and the SD Express capabilities anticipate the needs of future devices and content-rich and speed-hungry applications, offering an entirely new level of memory card with faster protocols, and turning cards into a removable, super-high-speed, mass-storage-class NAND Flash devices like SSD.
Akihisa Fujimoto works for Toshiba Memory Corporation.
© SD Association. All rights reserved. SD, microSD, SDHC, microSDHC, SDXC, microSDXC, SDUC, microSDUC Logos are trademarks licensed by SD-3C LLC.
This article includes a few forward-looking statements. Any statement that refers to expectations, projections or other characterizations of future events or circumstances is a forward-looking statement, including those relating to industry trends, standardization plans and any of SD Association's related plans. Actual results may differ materially from those expressed in these forward-looking statements due to various factors. We undertake no obligation to realize these forward-looking statements, which speak only as of the date hereof.