Scaling Down without Shrinking Performance
SD memory cards debuted in their standard full size in 2001, and were initially used in MP3 players and cameras. When the full size cards were deemed too large for mobile phones, SanDisk
developed the microSD form factor, initially known as TransFlash™, which is about 75 percent smaller than full size SD™ cards. In 2005, SanDisk contributed the technology to the SD Card Association, which then renamed and released the final specifications for the microSD format.
microSD cards are designed to serve similar purposes as standard SD memory cards but optimized to be utilized in devices requiring smaller form factors, so designers had a challenge on their hands. They were faced with inventing new manufacturing methods to develop identical features such as memory and controller, but in scaled down dimensions. Additionally, microSD cards were too small for a covered casing, forcing designers to find an alternative. They responded to the task by creating a molded plastic hybrid package.
Continuously increasing memory demands forced designers to come up with innovative new ways of equipping a smaller form factor with capacity close or equal to that of a full size card. Doing so requires many layers of memory – and the smaller the device, the bigger the challenge. Still, designers forged ahead, and their ingenuity brought the microSD card into fruition.
One Card, Many Applications
Due to their compact size, microSD cards are the perfect fit for many different applications in a large variety of markets. Action cameras such as the GoPRO's Hero® use them, and they are also well suited for high-speed 4K videos, which require high capacity and are high in memory consumption. Some drones with cameras attached include microSD cards as well. They may also be an ideal solution for future Internet of Things (IoT) and wearables devices such as watches, surveillance cameras and devices that collect data in remote areas. Most IoT devices are small and sometimes users prefer removable memory over embedded memory. microSD cards solve both issues. Above all, the microSD card has helped propel the smartphone market by giving both manufacturers and consumers greater flexibility and freedom.
The microSD card's tiny form factor of removable memory allows flexible memory expansion in mobile devices and other small products, leading to steady growth in total sales since their introduction.
There is a growing market for microSD cards in lower cost smart phones manufactured and sold in developing countries. The majority of those phones use memory cards because it allows manufacturers to reduce the most costly piece of a cell phone – memory – and sell phones at prices people can afford. They produce phones with a lower amount of internal memory, and consumers are able to buy the amount of memory they desire. It is typically less expensive to purchase a card separately than pay for a phone with a higher level of internal memory, saving consumers money in the long run.
The Next Big Thing in Mobile
Mobile applications offer enormous potential for microSD card market growth. Several recent developments illustrate its impact.
Google included slots for microSD cards in its fastest growing and largest mobile product segments – Android™ One Operating system and phones designed for emerging markets. Plus, Android M, Google's next mobile operating system, and Windows Mobile permit consumers to run applications directly on microSD cards, as well as leverage the cards to increase the primary storage capacity of the devices.
In the high end smart phone market many high end manufacturers have embraced memory card support in the wake of consumer demand. Some who did not include storage expansion options previously have started incorporating it into phone designs again. Consumers have responded well to this development, leading to a renewed presence of microSD cards in the smartphone market.
In the lower cost smart phone market – according to Strategy Analytics, the mid-tier and
entry-level smartphones market for microSD cards will continue to grow. The report predicts that the high tier segment, which tends to use embedded memory instead of removable cards, will decline starting in 2015, with the mid-tier segment (dominated by phones with microSD slot) eventually overtaking it. As the mobile phone industry focuses on reducing costs further, manufacturers may find it necessary to follow the lead of the mid-tier segment in memory options. The shift has already occurred outside of the United States, with the mid-tier segment soaring to a 43 percent year-to-year growth in India.
microSD cards are a good fit for phablets and tablets, as well, due to the need for flexible memory expansion. For example, a significant number of smartphones and phablets introduced at industry show, IFA 2015, in Berlin this year incorporated microSD slots in the design. According to Digital-Trends all top 10 selected new smartphones & phablets will include microSD slots without exception.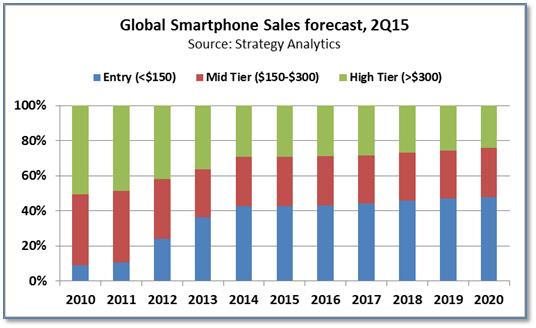 Backed by a Unique Standardization Body
The SD Card Association (SDA) is the standardization body that released the microSD standard and continuously adds new features to it according to market demands and emerging markets. The SDA's role is critical because standardizing a consumer product requires 'consumer-centric' attention. The SDA uniquely provides all necessary capabilities:
Vast experience in leading consumer product standardization
Reliable specifications that support market needs and enables new capabilities
Defining standard classification methods and related logos
Maintaining backwards compatibility and interoperability
Establishing self-compliance through detailed test guidelines and interoperability sessions
Ongoing promotion of the standard in the marketplace
A Big Future for a Tiny Card
Along with the noteworthy bump in storage capacity announced earlier this year, it is perhaps their widespread adoption that best illustrates the breadth of success SD cards have achieved.
microSD cards have achieved this impressive feat in part by offering manufacturers of devices across many industries the ability for memory expansion. In many cases, users can now select and expand their amount of memory as they wish simply by purchasing a card, and at an affordable price. Also, memory consumption has experienced significant growth over the years, largely driven by the increasing number of users taking videos.
And the future looks equally bright, with the lower cost smartphone market, action camera market and IoT applications laying the groundwork for continued adoption and demand. With all of the possibilities for technological advancements and market expansion, the next 10 years promise to be exciting.
Yosi Pinto serves as Chairman of the Board for the SD Card Association and Director of Standards in the CTO office at SanDisk.
microSD , microSDXC and SD are trademarks of the SD-3C, LLC. Android is a trademark of Google. GoPRO and Hero are trademarks or registered trademarks of GoPRO, Inc. Other brand names mentioned herein are for identification purposes only and may be the trademark(s) of their respective holders.

The views expressed in this article are those of the author and not necessarily those of SanDisk.