Knowledge is power. Before you buy a pair of shoes, you need to know your shoe size. Before putting together new furniture, you should read the instructions. And you definitely need to make sure anyone who watches your children is a responsible, attentive adult.
So why would you buy an SD memory card without knowing what the various speed classes mean and the best uses for each class? Choosing the correct SD memory card for a given application or device is essential to getting the most out of the card, and ensuring that you do not end up with a card that doesn't reach its full potential or doesn't work as well for you. This is even more important since the SD Association released a new set of Video Speed Classes to help users get the best quality video recordings and playback.
The Value of Speed Classes
We use the term "speed class" to define three specific protocols: Video Speed Class (V), UHS Speed Class and SD Speed Class.
The speed class types include SD Speed Class (C2, C4, C6, C10), UHS Speed Class (U1, U3) and now Video Speed Class (V6, V10, V30, V60, V90).
Originally, the speed classes were created to support photographers as more cameras began utilizing SD memory cards. The SD Association expanded speed class standards to support the growing trend of video recording. The standards rate the minimum data transfer in SD memory cards and devices and assure card performance used by any device that operates at a specific speed class. The newest standard, introduced in February 2016, define Video Speed Classes that provide new capabilities for consumers and a new enabling technology for the SD industry. They were introduced in response to the industry adoption of multi-file and ultra-high definition 4K/8K 3D and 360 degree video recording, which requires extended capture performance of up to 90 MB/s. This makes it easier for users to play back or record this resolution of video.
Higher-resolution content has largely been supplied by digital photography, drones and the new action camera segment, so the need for clearly defined Video Speed Classes was critical because of the higher data transfer speeds 4K/8K resolution demands. The new Video Speed Classes feature a range of performance classes, primarily defined by the card's minimum sustained transfer speeds, and will help to lay the foundation for even higher-definition video. For SD card makers, Video Speed Class reimagines technical mechanisms to provide new SD protocols that enable and optimize use of both the latest and future NAND technology for all SD applications.
Choosing a Speed Class
It is important that a user choose the right speed class for the correct application or device. Higher speed classes indicate to the user that the device they're using requires a higher sustained speed and help a user determine the minimum sustained speeds of a card.
Class 4 is a common card and will deliver a 4 MB/s transfer speed. Class 2, 4 and 6 all have similar applications, and work well if a customer is using a card just to take and store still photos, or in a smart phone to handle storage or music and video playback; they also support MPEG-2 (HDTV) video recording. Class 4 may be a cost-effective option for basic consumer needs.
Class 10 allows a broad depth of usable features and is the largest growth category, mainly because of the introduction of high definition on cameras and smartphones. This is usually the minimum recommended class speed for full HD video recording (1080p) and HD still picture consecutive shooting. It performs better file transfer and faster transferring of video, music and photos, and also can be used with HD still photo applications for continuous shooting, a feature that many cameras already include and smartphones are beginning to incorporate.
On the higher end is UHS Speed Class, which is designed for UHS-equipped devices only and designates minimum writing performance to record video on UHS cards. UHS-I/UHS-II UHS Speed Class 1 allows 10 MB/s file transfer rates, and is similar to Class 10 on the minimum sustained speed, but can support higher maximum speeds if the host devices support UHS-I. UHS-I allows a card to reach higher peak speeds, so a user can get higher-definition videos and photos.
UHS-I/UHS-II UHS Speed Class 3 allows 30 MB/s file transfer rates. This is optimal for video recording and playback of 2K/4K video, as well as devices that allow videos with additional features – for example, drones, which support 4K video and have GPS tracking and other features built in. This class is recommended for the enthusiast who wants to get the most out of his or her technology.
The latest in SD memory card class technology, the new Video Speed Classes, add another option and will eventually replace the current card classes. Formerly, point-and-shoot cameras typically only required Class 4 SD memory cards, but with many cameras now featuring video modes that record 2K or higher resolutions, Video Speed Class cards were introduced to ensure greater data transfer performance.
The new Video Speed Classes feature a range of performance grades, primarily defined by the card's minimum sustained transfer speeds in megabytes per second (the number after 'V'), and include V6, V10, V30, V60 and V90. V would coexist with the Class speed during the transition period. A camera or camcorder with HD 720p or 1080p (2K) video recording capabilities could use either a UHS Speed Class U1 or U3 or V30-V90. It is recommended that all new video recording applications that require minimum performance rates will support the new Video Speed Class.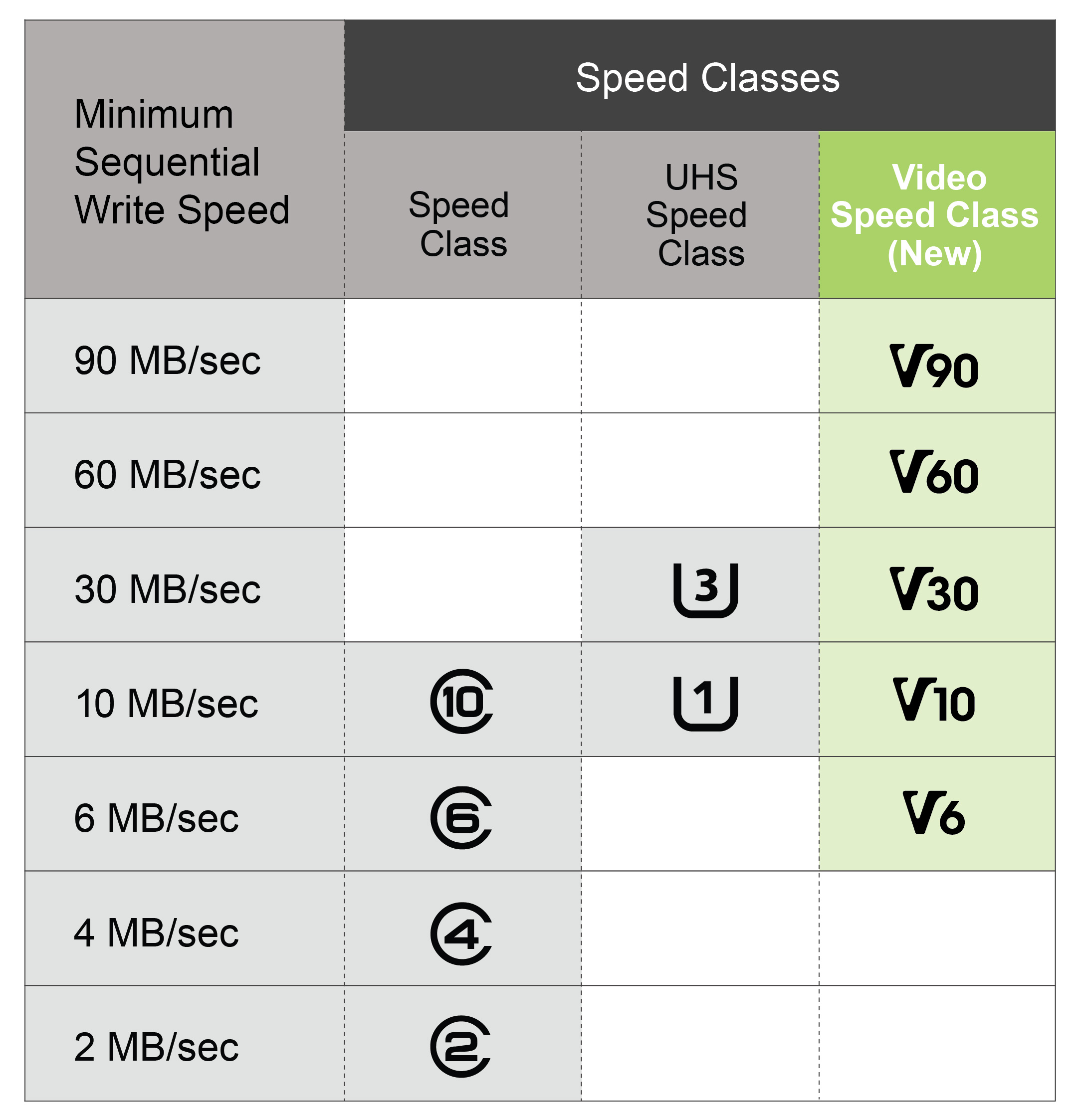 Each of the given speed class methods defines different card access methods closely related to the NAND Technology. This could lead SD memory card manufacturers to produce cards in which the card may meet Video Speed Class requirements for a given capture rate, but not the requirements for the equivalent SD Speed Class or UHS Speed Class – for example, an SDXC card that meets V30 requirements (supporting 30 MB/s capture using the Video Speed Class protocol) and only meet C10 requirements (supporting 10 MB/s capture with the SD Speed Class protocol).
This necessitates an important rule: Always match the SD memory card to your devices or application's requirements.
Maximum Speeds: The Other Aspect
Another important aspect of SD memory cards is the maximum speed, which is important if a user wants to take full advantage of his or her host devices. If the card does not meet the speed requirements of a host device, the host may stop writing to the card or have to wait for the card to catch up.
Current Class 10 cards have a maximum bus speed of 25 MB/s. At this maximum bus speed, recording 1080p video at 60 frames per second (fps), the card should perform well. However, if a device can shoot 120 fps or more, the card's speed may not be enough to keep up. The card may start recording, but later stop.
There are three types of UHS-I cards: SDR25, which gets 25 MB/s, SDR50/DDR50, which gets 50 MB/s file transfer rate, and SDR104, which gets 104 MB/s file transfer rate.
UHS-I UHS Speed Class 3 or V30-V90 is the best option for 1080p 120 fps or more, as well as 4K video recording. For 4K, again, the frames per second play a role. At 30 fps, the user could use a UHS-I UHS Speed Class 1 card or V6-V10, but at 60 fps 4K, the user would require the UHS-I UHS Speed Class 3 card or V30-V90.
Similar to UHS-I, UHS-II has two bus speeds, 152 MB/s and 312 MB/s. UHS-II devices are fairly limited at the moment, but higher resolution video recording and more requirements for frames per second make UHS-II cards a necessity for these new devices. V30 and higher are recommended for host devices utilizing a UHS-II interface.
With UHS-I and UHS-II, the reason for the different speeds is contributed by the change in the interface designed and depends a lot on the build of materials in the card. The type of NAND flash, configuration of the NAND and controller all play a role, so referencing the card manufacturer's datasheet or packaging is best.
Other Considerations
Using a speed class that is too high for a particular device or application is not really a technical issue for a user; it's more of a value issue. If a user is utilizing a card on a basic smartphone to store photos, he or she does not really need Class 10 performance, but there wouldn't be any negative effect from using such a high speed card. Although the user might have spent a bit more money than necessary, he or she does gain flexibility to use the card in other devices with more demanding applications.
Something else to consider: In the early days of card storage, "SD" was the standard Secure Digital card and only went up to 2 GB of storage. SDHC is most commonly used today and runs from 4 GB to 32 GB. SDXC offers top-of-the-line capacity and ranges from 64 GB to 2 TB – but in these cases, if a user buys a card that isn't supported by the device, the card may not be compatible. For example, if a user tried to plug a SDXC card into an older phone or camera, it may not work, or the capacity may be limited to 32 GB, so it is important to confirm compatibility with the host device and always match the card with the device.
Similarly, UHS-II have a very high speed of more than 200 MB/s, but they need a UHS-II-compatible device to reap the full benefits; otherwise, there will be a significant drop in performance.
Future Speed Class Trends
Speed class and demands on minimum speeds are becoming greater because cameras and devices are introducing more features, which contributed to the introduction of the new Video Speed Classes. For example, with drones, 4K video can be shot and GPS tracking can map that footage.
Also becoming more popular is slow-motion video, which has a higher amount of frames per second on 1080p HD or 4K video. Slow-motion video's popularity will continue to increase, and Video Speed Class cards will help facilitate it.
8K video will be the next big thing to hit the marketplace – the 2016 Consumer Electronics Show featured 8K televisions – and the Video Speed Classes will help usher it in. The new Video Speed Classes will be a good opportunity to show industries what will be needed in the future for storage and data transfer and get ahead of the curve.
New Applications for SD Memory Cards
The majority of microSD memory card shipments for the last few years have been for phones; this market segment is still on the growth spectrum, but has slowed down considerably.
Embedded solutions are being used on a smaller level, but will continue to grow. An example is Raspberry Pi, a small, affordable PC-like computer that is especially popular in Europe. It can be integrated into various industrial applications and uses microSD memory cards for storage.
There will be more demand for cards to have a higher minimum speed as well as a higher random performance than normal. Automotive and aviation, as well as most manufacturing facilities, will be growth areas in the future because of SD memory cards' expandability and removability.
As the Internet of Things continues to expand, many of the connected devices will require storage; microSD memory cards are an ideal solution because of compact size and value.
What to Look for When Shopping
If a user buys a host device that supports any type of SD memory cards, a logo will be on the device indicating what card it supports, and a user can match the logo to the card he or she wants to buy. Most devices today will support SDXC cards, and all cards at that level are backwards compatible – so no matter what card size, the card will work. This is true as well for the Video Speed Classes. Some host manufacturers also will indicate in a user manual the ideal speed class for a particular device.
Keeping in mind all of the above when shopping for an SD memory card can help the user buy the right one. Be sure to consider the device you are using and how you plan to use the card, and you'll be on the right track to getting the best card for your needs.
Andrew Ewing is Flash Business Unit Manager for Kingston Technology Company, an SD Association member. Ewing can be reached at Andrew_Ewing@kingston.com. Mike Mohney is Senior Technology Manager, Technology Resources Group, for Kingston Technology Company, Inc. Mohney can be reached at  Mike_Mohney@kingston.com. Max Lam is SD card engineer for Kingston Technology Company, Inc. Lam can be reached at Tung_Lam@Kingston.com.
© SD Association. All rights reserved. SD, SDHC, miniSDHC, microSDHC, SDXC and microSDXC Logos are trademarks of SD-3C LLC