Sometimes, the most effective components of machinery are the ones users never see. Yet, without these building blocks, equipment would fail to perform properly. The same could be said of SD memory cards, the popular small form factor expandable memory technology used in many industries and applications today.
The SD Association aids in the advancement of this technology by establishing standards for SD expandable memory cards, holding product manufacturers of interoperable memory cards and devices to these standards. Brands across a wide range of product categories use SD standards, including smart phones, vehicles, computers, cameras, televisions and personal navigation devices. Established in 2000, SD Association has grown to about 1,000 members.
Below are some modern applications where SD memory cards offer highly suitable storage options:
Internet of Things (IoT)
The IoT has become a part of life in developed countries, to the point where many people do not even grasp how much it impacts their daily activities. For example, every second, 127 new things are connected to the Internet, according to David Evans, CTO of Stringify. IoT devices are found in medical centers, security and surveillance applications, railways, air transportation, environment condition monitoring, disaster management and retail, among other industry sectors.
In fact, the IoT industry will have a total potential economic impact of $3.9 trillion to $11.1 trillion a year by 2025, according to a 2015 report from McKinsey & Company. And the report predicts that companies that use IoT technology will play a critical role in developing the right systems and processes to maximize its value.
Interoperability between IoT systems is an integral piece of the puzzle. As the report suggests, interoperability is required for 40 percent of the total potential economic value to be realized.
Communication between devices must be uninterrupted. If data goes missing for even a few minutes, then it can impair decision-making. Communication breakdown is simply not an option, as such failures can add costs or even impair safety. Given the impact that industrial IoT applications have on many different sectors, failure can prove catastrophic.
Compounding the high stakes aspect is the challenge of storing data in a secure, accessible manner in a tiny space. Many IoT devices are quite compact. Fortunately, SD memory cards are literally the perfect fit, as they are small in size, yet reliable, solid in performance and can provide a significant amount of memory expansion.
These characteristics make memory cards flexible enough to suit a large variety of IoT applications, including those located in remote or inaccessible areas. In addition, the cards can withstand extreme temperatures, which is an important consideration for many IoT applications. Finally, technology advances have continuously extended these cards' capabilities; for example, users can implement reliability- enhancing and error-mitigation algorithms on the cards.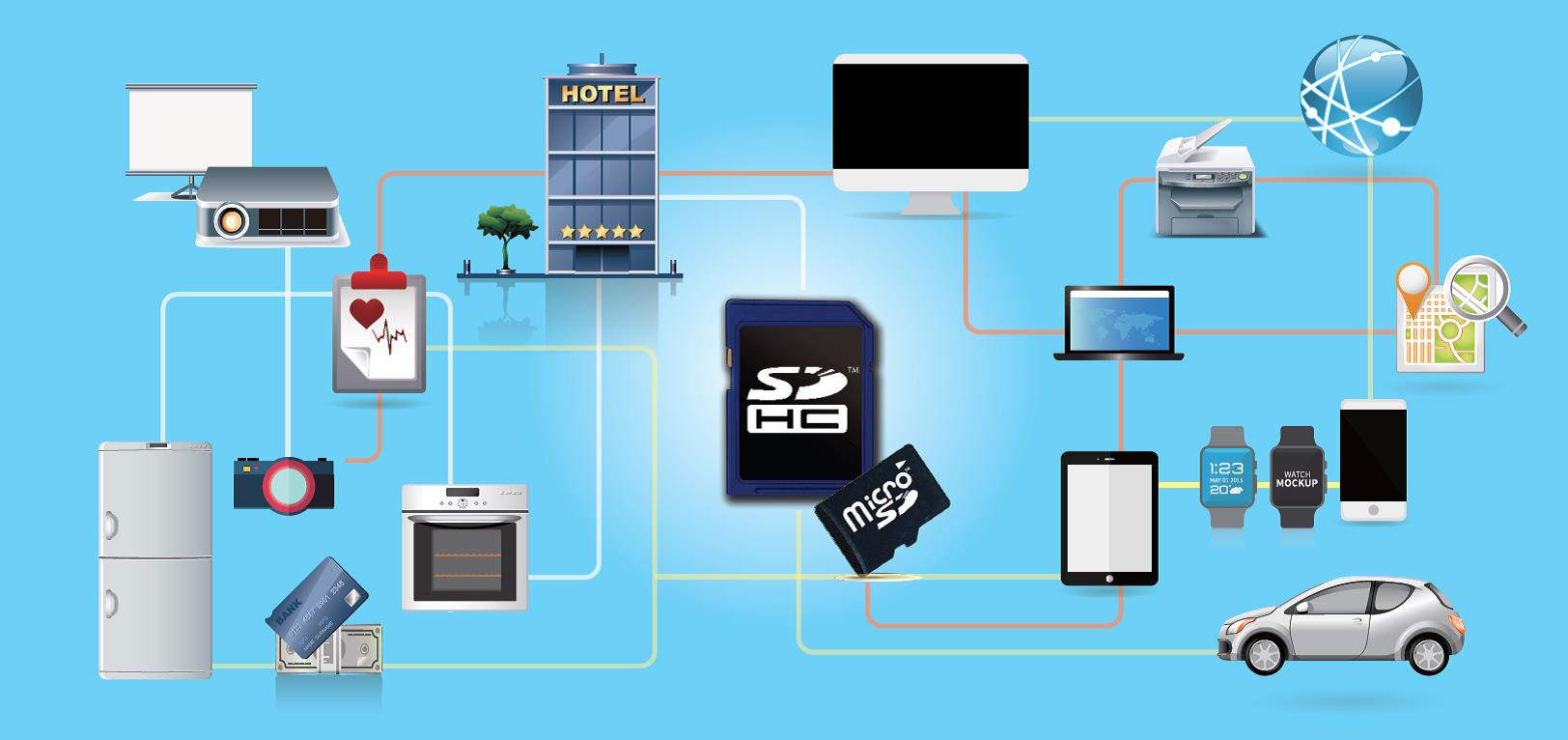 Automotive
Smart cars have started to gain widespread acceptance among consumers. McKinsey & Company reported recently that in the past year, the number of consumers willing to switch automotive brands for better connectivity features has increased 37 percent. And nearly one-third of consumers are now willing to pay for connected services in a subscription-based model, up from 21 percent a year ago. While smart cars certainly offer many benefits, temperature extremes present a challenge to equipment within the vehicles, which can harm the performance of some applications. When exposed to extreme temperatures, smart car technology is prone to various types of equipment failure which can affect storage devices. For example, the navigation capabilities of a GPS system that stores maps via an SD memory card may suffer from data loss from extreme conditions.
While smart cars certainly offer many benefits, temperature extremes present a challenge to equipment within the vehicles, which can harm the performance of some applications. When exposed to extreme temperatures, smart car technology is prone to various types of equipment failure which can affect storage devices. For example, the navigation capabilities of a GPS system that stores maps via an SD memory card may suffer from data loss from extreme conditions.
Technology advances have allowed vendors to produce memory cards that can withstand harsh external conditions. Manufacturers test the memory cards' durability while operating in extreme temperatures and continuously improve their resilience.
Automotive applications serve a wide range of purposes, including drive logging for insurance purposes, in-vehicle-infotainment, 2D/3D navigation and mapping, intuitive driver assistant systems, logistics and fleet management and autonomous vehicle control. These create a large volume of data that needs to be accessed quickly and reliably for storage devices such as memory cards.
Computational Photography
These days, the vast majority of consumers are amateur photographers, sometimes armed with selfie sticks in hand, sharing the results on social media. These users rarely question the sophistication of their camera phones.
Professional photographers, on the other hand, are embracing a newer, more exciting advancement in their field. Computational photography – digital image capture and processing techniques that use digital computation instead of optical processes – could soon become the norm in photography circles. It represents a new area of computer graphics and vision that allows photographers to improve their pictures as well as capture images in ways that were previously impossible.
This advanced level of photography offers many attractive capabilities, including the ability to shift the axis of photographs, create panoramas, render images in 3D, capture higher quality photographs in low light, and measure light in depth – in addition to horizontally and vertically. Given its ample benefits, computational photography is poised to affect every segment of the market, with a widespread influence reaching anyone who wishes to take a picture.
Furthermore, because software drives computational photography, it will inevitably affect the storage capacity for large files. Using the right storage solution is critical in order to maximize the advanced features it offers. Since it is software-based, there is a strong possibility computational photography will generate a need for increased device storage. As a result, users will need cards with the capacity to store a significant number of photos.
SD memory cards offer users the flexibility to increase their storage capacity in devices designed to support computational photography. Users can also purchase cards equipped with higher speed processing capabilities, arming themselves with the ability to expand storage as well as improve writing and reading speeds. Camera manufacturers, recognizing this desire, have started to include a memory card slot in devices.
Smart Phones
SD memory cards have a storied history with smart phones. In the years since smart phones gained popularity, some manufacturers have attempted to boost their short term profit and drive device replacement by building additional storage into the phone's architecture, allowing them to increase retail price.
However, this eliminates storage expansion options for users. Left without an affordable solution, users replaced phones when storage ran out, instead of simply expanding the memory of their current phone with the aid of a microSD memory cards. These mounting costs have led to increasing frustration among consumers, whose data demands have risen steadily.
In response to consumer demand, a large percentage of manufacturers have recently equipped their phones to support microSD memory card slots. Many smartphone models now offer microSD memory expansion because it allows manufacturers to reduce the cost of the phone, along with offering consumers more flexibility to upgrade and change cards to suit their storage needs.
One striking example of this trend is the unveiling in September 2015 of Google's new cost-effective Android One smartphone in India, the world's fastest-growing smartphone market. The device costs just $105, which is notable because, on average, the cost of handsets in India is higher than in other developing countries. On top of that, many carriers do not subsidize the purchase of smart phones upon the signing of a contract as they do in the U.S., which drives up the cost of phone by hundreds of dollars for consumers.
This low-cost smart phone trend is likely to continue in developing countries to combat the elimination of unlimited data plans offered by cellular network providers. For their part, consumers can save further by relying on microSD memory cards to store more data, thereby reducing associated charges.
Taking into account all of the applications above, it is clear that SD memory cards are well suited to a variety of distinctly modern applications. Small but mighty, they deliver power, performance and expandable memory that meets even the most rigorous storage demands.
Janice Chiu is a board member of the SD Association and the Product Marketing Director of Expandable Storage Team at Silicon Motion Inc. Her email is Janice.chiu@siliconmotion.com.
©SD Association. All rights reserved. SD, SDHC, miniSDHC, microSDHC, SDXC and microSDXC Logos are trademarks of SD-3C LLC