When one thinks back to 2005, the year of the microSD memory card's debut, it feels like far more than 11 years has gone by. YouTube was just a tiny startup company, and scientists were years away from cloning human stem cells. The iPhone was merely a twinkle in Apple's eye, and the world's population was a modest 6.5 billion people – modest compared with the 2016 figure of 7.4 billion and counting.
The world has changed a lot since 2005, and as technology has evolved, the microSD memory card industry has kept pace. More than 1 billion cards were sold in 2015 – and the market continues to expand.
The fingertip-size memory cards deliver value to consumers and manufacturers across numerous industries, making products more affordable for consumers while enhancing the capabilities of a product itself. In the past, many applications only required sequential writing to a card, but now they need to be able to handle both sequential and random writes to accommodate sound, photos, videos and applications. Specified and standardized by the SD Association (SDA), microSD memory cards are continually improved with new design features and capacity expansions to support a number of markets, including mobile phones.
Growing Mobile Phone Storage Needs
Current capacities for microSD memory cards range from 1 GB to 256 GB depending on the manufacturer. SDA members run SD compliance tests to ensure these cards maintain consistent performance for consumers, who primarily use microSD memory cards in mobile phones and tablets.
The rise of photo- and video-centric apps like Snapchat and Instagram especially have fueled the need for larger amounts of storage as more superior mobile phone cameras produce higher-quality photos and videos – meaning the files themselves are much larger and now store metadata like geolocation. Consumers can easily use up a phone's factory storage and need expandable options.
Driving New Standards
The SDA has implemented microSD, microSDHC and microSDXC card standards for manufacturers to meet increasing storage needs. It developed the Ultra High Speed (UHS) standard to speed the processing of massive amounts of data between a mobile phone and a memory card. microSD also can accommodate additional capabilities such as near-field communications (NFC) and Secure Elements in SMART microSD memory cards.
The newest standard, introduced in February 2016, define Video Speed Classes, providing new capabilities to consumers and a new enabling technology for current and future flash memories used in the SD industry. They were introduced in response to the industry adoption of multi-file and ultra-high-definition 4K/8K, 3-D and 360-degree video recording, all of which require extended capture performance of up to 90 MB/s. Video Speed Classes makes it easier for users to play back or record this resolution of video on their mobile devices.
Drones and action cameras are growing in popularity with consumers, and higher-resolution content has largely been supplied by digital photography, drones and the new action camera segment, so the need for clearly defined Video Speed Classes was critical because of the higher data transfer speeds 4K/8K resolution demands. microSD memory cards are necessary for drones because they allow for memory expansion, rather than limiting a user to whatever embedded memory comes with the device.
The Video Speed Class also supports real-time multi-file recording— valuable for devices like 360-degree cameras or drones, which are primarily used for video recording but may also use additional data simultaneously, including collecting GPS coordinates and taking high-resolution photos. Matching a device with cards that support at least the same Video Speed class assures smooth data transfer and video capturing.
Comeback Kid
Some mobile device manufacturers have a closed product strategy: A phone has a predetermined storage volume built into the phone – no more, no less. This allows the manufacturer to increase their profit and the retail price, but it also means a customer cannot expand storage volume using microSD memory cards, reducing the flexibility of the device and usually forcing the customer to upgrade the phone simply to gain more storage.
Some mobile phone manufacturers, however, continue to see value in including microSD memory card accessibility. In 2015, Android Marshmallow introduced the card adoption mode, which lets users define a microSD memory card as an embedded device, encrypting the data on the card and allowing app data to be saved to the card. New Windows phones give consumers all of the normal storage flexibility offered by microSD memory cards and allow programs to run directly from the card.
Other manufacturers are expressing a renewed interest in producing phones with microSD memory cards to reduce product costs and sell more phones – including manufacturers that had previously removed the microSD slot.
In 2016, the Samsung Galaxy S7 reintroduced the microSD card slot after the manufacturer removed it in the Galaxy S6. HTC added it back to the HTC One (M8) in 2014, and LG removed the slot in its G2, but brought it back in the G3 in 2014. Both manufacturers have continued to provide microSD card slots in subsequent iterations. Note though that in 2016 we see for the first time an overall drop in smartphone sales which may affect microSD sales.
According to Strategy Analytics, in August 2015, 135 new phone models were announced, with 76 percent of them supporting memory cards; almost the same number of models was announced in December 2015 (133), but now 94 percent of them supported microSD cards. This is a trend to watch in the coming months.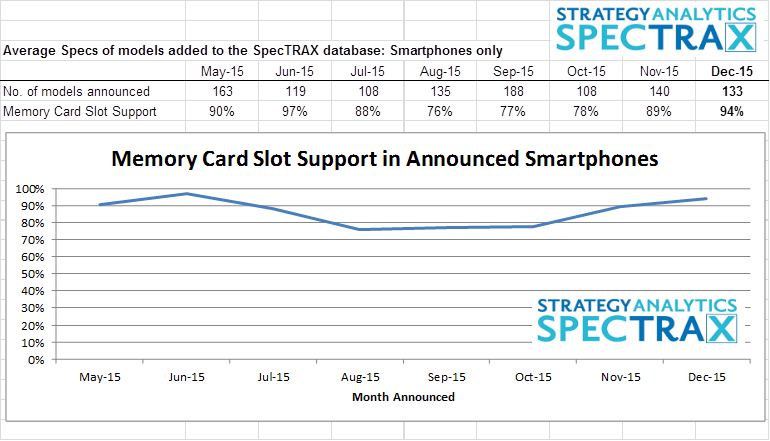 It is expected that manufacturers will continue to bring back card support based on customer needs for large amounts of data storage. Many mobile network providers have stopped offering unlimited data and are charging quite a bit for data and any overages customers incur. Network data transfer rates are also still quite slow and not efficient for cloud storage in most developing countries. Customers thus will look to microSD memory cards to store photos, videos and music and access their content offline instead of using the cloud to cut down on their data use as well as for added security.
New Applications Supporting microSD – Updates
Late 2015 and early 2016 brought other important changes that will increase microSD memory card utilization and widen its market.
Amazon's Fire tablet now supports microSD cards of up to 128 GB, even allowing a user to read e-books from the card. The recommended speed class is UHS/Class 10 for the best performance (to play videos, for example). Files can be transferred to a tablet from a computer either using the computer's microSD slot or a USB-connected microSD card reader.
In addition, Amazon Prime's Instant Video service now is allowing its users to download content and view it offline on iOS and Android devices. This will enable users to reduce data use by downloading television shows and movies to their devices using Wi-Fi, saving the content to their microSD memory cards and then watching on demand, even when on airplanes or trains without Wi-Fi or when traveling internationally, when data charges could be higher.
In early 2016, Apple updated the beta app of Apple Music for Android to allow users to store music on a microSD memory card. This is available in any device that supports expandable storage and offers yet another way for users to decrease storage use on a phone or tablet and lower data streaming.
Other Applications for SD Memory Cards
Embedded solutions are being used on a smaller level, but will continue to grow. An example is Raspberry Pi, a small, affordable PC-like computer that is popular in Europe. It can be integrated into various industrial applications and uses microSD memory cards for storage.
Automotive and aviation, as well as most manufacturing facilities, will be growth areas in the future because of microSD memory cards' expandability and removability.
As the Internet of Things continues to expand, many of the connected devices will require storage; microSD memory cards are an ideal solution because of their compact size and value as well as expansion options.
A Trusted and Valuable Tool
The SD Association will continue to create SD standards and specifications to ensure consistent performance and interoperability between microSD memory cards. Dedication to consistency and interoperability has made microSD memory cards a consumer favorite, and new markets and uses will ensure continued technology enhancements and new features.
Brian Kumagai is the president of the SD Association. Yosi Pinto is chairman of the SD Association
© SD Association. All rights reserved. SD, SDHC, miniSDHC, microSDHC, SDXC and microSDXC Logos are trademarks of SD-3C LLC