Vehicles with sensor and compute intelligence, connected via the internet to the cloud or smart cars, are on their way to becoming mainstream around the world. One of the many applications enabled by these technologies is gaining popularity; some people are using dash-cameras/drive recorders to log their drives, so that they have evidence for insurance purposes in case of an accident.
Imagine recording important footage of this nature, going back to retrieve it after an accident and finding that the data is corrupted, rendering it unusable. This is an unfortunate reality due to the extreme temperatures, shock and vibrations that cars are subjected to on a daily basis. It takes a resilient storage device to weather, no pun intended, extreme environmental variables.
Storage solutions for automotive applications should possess the capacity to store large amounts of data, as the volume and use of these applications rises steadily. They serve a wide range of purposes including the aforementioned drive log example, in-vehicle-infotainment, 2D/3D navigation and mapping, intuitive driver assist systems, logistics and fleet management and autonomous vehicle control. As a result, they need to perform while receiving a constant stream of data.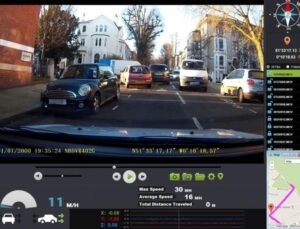 Small Card, Big Performance
Automobile and head unit manufacturers have turned to SD memory cards – a removable digital storage device – as a reliable storage solution. Many have adopted small form factor devices with widespread support for SD interface NAND flash memory for automotive applications. These cards possess a number of characteristics that make them suitable for the demands of automotive applications.
The cards offer flexibility, with a wide operating temperature range
They are reliable, and power efficient
Have features to detect and correct errors
Algorithms distribute wear, enhancing endurance and lifetime
SD memory cards consistently perform; there is no drop in performance over time. The ability to perform in power loss situations, such as an accident, is critical helping it fulfill many needs.
Of course, there is no such thing as a perfect solution, and SD cards experience issues like any other technology. But with knowledge and application of the appropriate measures, users can prevent challenges.
Struggles and Solutions
ortunately, SD memory cards tend to handle shock well, with an operating shock rating of 2,000 Gs – a significant improvement over the 100 to 200 G rating for the mechanical hard drive of the typical portable computing device. To illustrate the difference, devices with a shock rating of 2,000 Gs can withstand a drop to the floor of 10 feet, whereas a 100 to 200 G rating will only hold up to a drop of one foot. The card's level of shock absorption is important for automotive applications, as a moving vehicle may be subject to a significant amount of shock.
On the other hand, temperature, power supply and stability all have a significant impact on SD memory card storage reliability. And these conditions can vary depending on the operational behavior and requirements of automobiles. This variance can make an impact on integrated electronic components such as on-board storage and memory.
Temperature affects NAND flash memory and data retention in the cards, causing fluctuations in their ability to hold a charge. When a card's ability to hold a charge degrades, the vulnerability affects its ability to retain data. This is because cells that are not charged frequently could leak existing charge. If a cell loses charge, its voltage level and corresponding logic bit will change, potentially resulting in a loss in data integrity. (see chart below)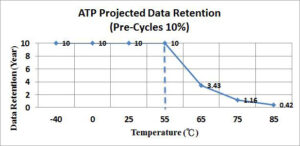 SD memory card manufacturers can solve this problem with cards they test for durability under extreme temperature conditions. New technologies have allowed vendors to produce robust SD memory cards that can withstand challenging external conditions. Users seeking storage solutions for automotive applications should steer clear of cards manufactured for consumer electronics, as cards designed for this market do not typically account for extreme conditions when they are designed.
Another threat to data integrity is read/program disturb, an internal issue within the card architecture. Any device using NAND flash is vulnerable to read/disturb. Flash memory cells are one building block of an SD memory card's architecture. Read/disturb occurs under read-intensive operation (such as reading maps for navigation/GPS), when a charge leaks across adjacent flash memory cells located in a row within architecture that contains written data. There are no safeguards in place to prevent a charge from leaking from the target cell to its neighboring cell. If the neighboring cell already has a charge, the leak can cause what is known as a disturb. Disturbs are problematic because if they are not identified and corrected, they can corrupt data. (see diagram on the right)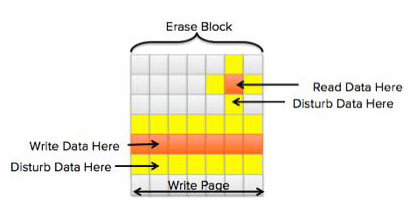 Fortunately, solutions are available to ward off read/disturb. First,certain algorithms inside of the card to mitigate these effects, checking cells at periodic intervals to ensure they are in the same state as they were previously. Second, if an unintentional change has occurred, auto refresh corrects errors to ensure charges are hitting target cells and data is correct. In order to take advantage of these features, it is imperative to purchase SD memory cards that integrate this technology into the design. (The diagram on the right illustrates various zones in an SD card that undergo intensive read operations)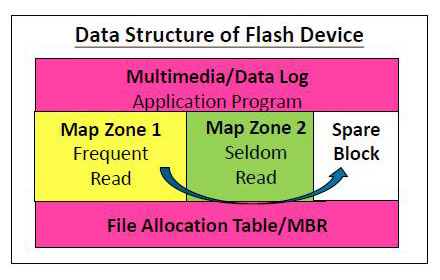 Additionally, any small delay of time in sending data from the SD memory card to its associated device can cause data corruption. If this happens, the device misses critical information it needs in order to function properly because the delay has interrupted data flow. Data in transit is lost, and as a result, the system attempts to function without implementing the most current information.
In order to guard against delays, manufacturers can program a backup code into cards that allows them to revert to a previous state; much like a computer can in the wake of a system crash.
When choosing an SD memory card for automotive applications, it is necessary to select the appropriate product. Cards need to pass tests administered by vehicle manufacturers and equipment vendors, for specific automotive environments, in order to demonstrate data durability under various conditions. SD memory cards might also need to demonstrate compliance to automotive specific quality management standards and systems such as AEC-Q100, and ISO/TS16949, PPAP and IMDS. Validating this capability is very important to ensure a long life and the capacity to deliver a variety of important services.
With the right SD card, users can drive off into the sunset, enjoying the many benefits of automotive applications.
Danny Lin is the vice president of ATP and board member of the SD Association. At ATP, Danny is responsible for global supply strategic partnerships and alliances. With the SDA board of directors Danny is driving the continuous expansion of the SD memory card adoption in the non-traditional markets including IoT, Industrial/Embedded, Healthcare and Automotive. Danny can be reached at DannyL@us.atpinc.com.
Saurabh Pande is responsible for business development, solution engineering and technical marketing across ATP's existing and new strategic client base. Saurabh can be reached at SaurabhP@us.atpinc.com.
© SD Association. All rights reserved. SD, SDHC, miniSDHC, microSDHC, SDXC and microSDXC Logos are trademarks of SD-3C LLC