The digital photography market was valued at $44.7 Billion in 2021 and according to recent research, it is projected to reach $58.41 Billion by 2030. The truth is the world of video and digital photography that we know and love today would never have been able to get to where it is without one key technology: SD memory cards.
In this article, we will look at some of the features of these innovative memory cards, including SD Express that delivers the fastest data transfer speeds and the newly released specification SD 9. All these features allow the photography and video industry to advance and meet the rigorous demand of higher resolution images and larger capacity needs—demonstrating that it's not just a question of squeezing more images onto a memory card.
Digital photography and videography have expanded beyond anything the early pioneers of photography could have ever imagined. The number of travel and nature photographers keeps growing and the number of moments people capture with their smart phones grows every day. And let's not forget the proliferation of 360-degree cameras, drone imaging and UHD action cameras to name a few. Since memory cards and digital photography go hand in hand, there are still questions raised by photographers, videographers and professionals on what they should look for when choosing the right memory card.
Speed
A recent piece in WIRED Magazine discussed the value of super-fast SD memory cards available to users today. "You might not think too much about how fast your SD cards are, but picking the right memory card can upgrade your gaming experience, help you take better photos, and even make it possible to record super high-resolution video."
Improvephotography.com highlighted that the reason speed is important in photography is because of the file size of the images. "While it is true that HD video produces large files, digital RAW files produce more data in a shorter period of time when photographers shoot a quick burst of multiple RAW files."
With the demand for speed now seen as a requirement by photography applications, especially when shooting HD/4K video, SD memory cards become essential in fulfilling those needs. Thanks to the continuous progress in the space of SD memory card standards, high-speed memory cards are available to solve customer needs.
The memory card speed is the minimum speed at which the memory card's continuous write is assured, which can significantly impact the workflow of a photography project. There are three types of speed assurance ratings that have historically evolved as the card interface advanced as well as the memory technology evolution: Speed Class, UHS Speed Class and Video Speed Class.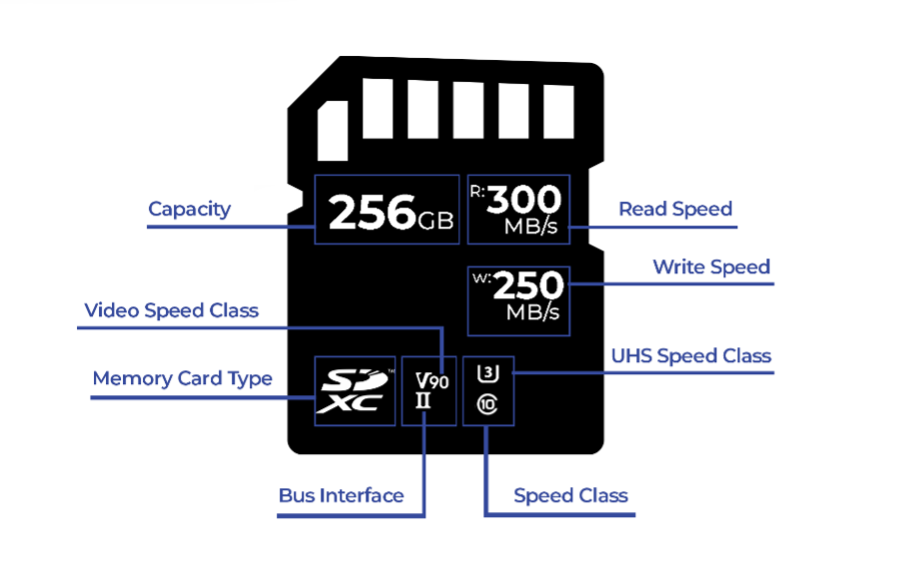 Initially it was the Speed Class that was introduced and is indicated on the memory card by a number enclosed within a C-shaped symbol. There are currently four Classes: 2, 4, 6 and 10. Ongoing innovation over the past 20 years had led to the development of cards with a higher minimum write speed than 10MB/s, prompting the SD Association (SDA) to introduce additional memory card standards.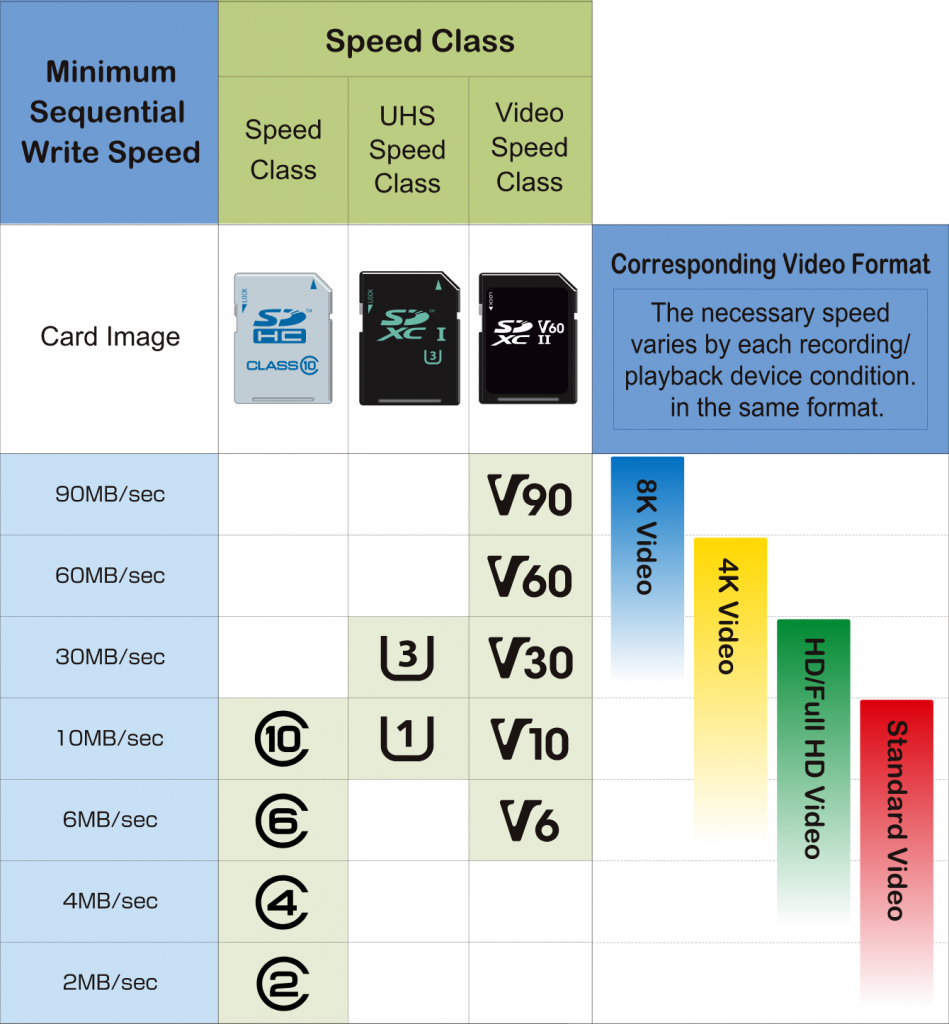 As the interface speed capability increased with the introduction of Ultra High Speed (UHS) SD interface, UHS Speed Class was introduced. UHS Speed Class 1 and UHS Speed Class 3, indicates assurance of a minimum write speeds of respectively 10MB/s and 30MB/s.
Video Speed Class was introduced along with the introduction of newer memory technologies. Hosts that support Video Speed Classes may utilize cards with new memory technologies more efficiently, helping videographers and filmmakers as they record higher definition video in 4K and 8K and require faster read/write speeds. The Video Speed Classes defined by the SD Association are V6, 10, 30, 60 and 90, assuring 6, 10, 30, 60 and 90MB/s respectively. V6 and V10 can be applied to High Speed and UHS Bus IF product family. V30 can be applied to UHS Bus IF product family. V60 and V90 can be applied to UHS-II / UHS-III product family. To support a minimum assured higher speed capability of the SD Express memory cards, the SD Association is probably expected to further enhance the speed class family sometime in the near future.
Following is a summary picture that shows all the speed classes beside each other.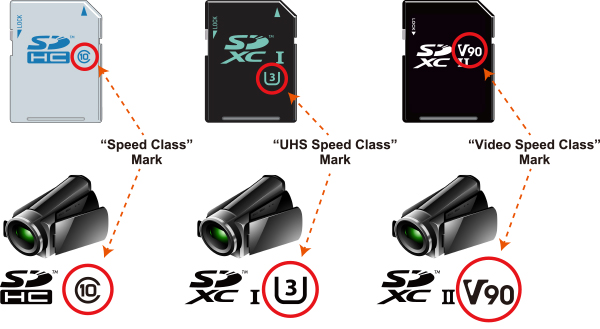 IMPORTANT: As can be seen from the various speed class types, some are correlating to others due to relation with specific SD interface type or memory technology. Therefore, in cases where the specific equipment supports any of those speed classes (as most of the cameras support) it is important for the consumers to match the memory card used with the supported speed classes of the camera— and for best use of the memory cards, the support of the latest Video Speed Classes would be always preferable. Matching the supported speed class of specific equipment to the memory card is important.
In addition to the speed classes that assure the minimum continuous write speed, memory cards are evaluated also per their maximum Bus Speed capability. This refers to how quickly the system bus can move data between the host device and the memory card and it may indicate its potential of max read /write operations during short bursts. Early SD memory cards had a default bus speed of up to 12.5 MB/s. However, as the demand for faster cards increased, the SDA introduced new bus interfaces to enable faster bus speeds, and as a result, increase the maximum data transfer of read and write speeds. Today, most cards in the photography and videography space use one of the following ultra-high-speed (UHS) bus interfaces:

UHS-I: Bus speed up to 104MB/s
UHS-II: Bus speed up to 312MB/s
SD Express: Bus speed through PCIe/NVMe interface up to 985MB/s, with SD 7 cards, or up to 3940MB/s with SD 8 cards (SD Express cards are now available in the market). Bus speed through the SD interface is backward compatible with UHS-I.
The actual maximum read/write operation of cards is usually limited also by the actual implementation of the card's internal architecture. Therefore, card manufacturers may publish those numbers usually on the card's package and sometimes on the cards themselves (if there is enough room on it). Users can find the best memory card for their device via Speed Class symbol match, which means choosing the same, or higher-class, symbol card than the class symbol required by the device. As well as matching the type of supported interface (UHS-I/UHS-II/SD Express) with the one supported by the device.
Storage Capacity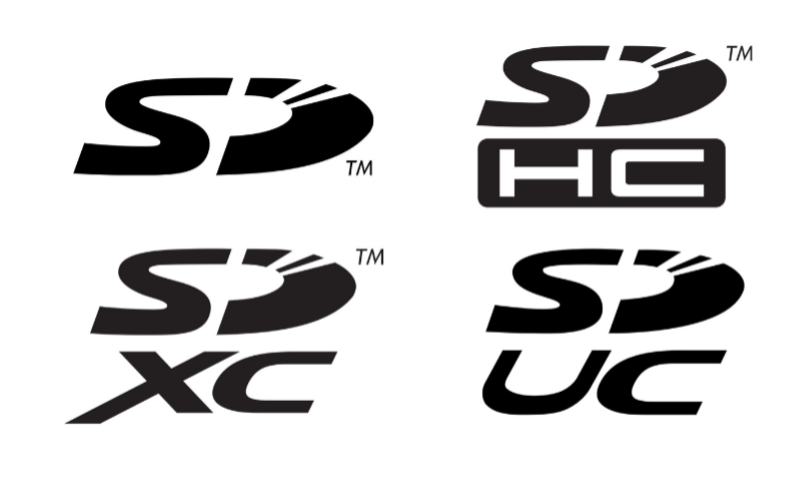 The storage capacity is shown on the card in gigabytes (GB) or Terabytes (TB). Today's SD memory cards, SD, SDHC (SD High Capacity) and SDXC (SD Extended Capacity) can hold up to 32GB and up to 2TB, respectively. The newest capacity of SDUC (SD Ultra Capacity) cards boosts the card's capacity up to a potential of up to 128TB. SDUC cards are not yet in the market.
Although it may seem obvious that the bigger the better in terms of capacity of the memory card, this is not always true. This is especially important when it comes to photography, as filmmakers who shoot high-bitrate 4K, 6K, or even 8K videos should definitely consider cards with larger capacity. Although some photographers may prefer using a few cards with lower capacity memory cards in order to reduce the risk of loss. Also, some devices are limited on what capacities they can handle, so it's key to check the device requirements and match them to the card.
Security
With drone videography emerging as a new form of photography, users have been able to capture images in ways not possible before. Drones can enhance visual experiences and deliver new perspectives with new vantage points of the world. As most drones use SD or microSD memory cards as their standard storage option, speed and capacity remain two important priorities for professional videographers choosing these devices. As speed and capacity have remained at the forefront, SD memory cards have stayed on the cutting edge and now include a third layer: security.
Although the physical size and shape of SD memory cards have not changed since their introduction in 2000 (with microSD memory cards first available in 2004), the format's internal specifications have gone through several iterations.
The first SD card specification released in the year 2000 was limited to up to 2GB of storage capacity and 12.5MB/s max data speed, while in fact only 8 megabytes of storage capacity were introduced due to memory technology and size limitations. Over the next 20 years, the SD Association created 15 major physical and mechanical specifications that steadily improved the functionality of the card with newly added features as well as extended the maximum speed and storage capacity limits, enabling utilization of the newly evolved memory technologies and meeting market needs.
SD Express cards, supporting the PCIe/NVMe interface, announced in 2019-2020, the SD7.0 and SD 8.0 with bit rates of up to 1GB and ~4GB/s, respectively, are opening even more opportunities for extra high performance in videography and are again enabling an evolution and leap forward. Current and future camera and video manufacturers can stretch their imaginations and push the limit of what is possible in image capture. With SD Expresscards, anyone taking a slow-motion video of their surroundings or taking burst photos of an event, can capture these moments at the highest qualities. That means raw 4K and 8K video capture and playback, as well as 360-degree videos can be recorded and played back flawlessly.
In 2022, the SD Association released the SD Specification Version 9 (SD 9) fulfilling its promise of continuous innovation by delivering the ability for manufactures to include new device boot support and advanced security features.
When using drones to shoot and capture footage, the features introduced with SD 9 can be especially beneficial to manufacturers to shrink the form factor to minimize the housing size, which can limit space for image storage. The temptation may be to bring on an embedded storage solution. However, given their unique usage, there is always the possibility that embedded storage media may fail due to a crash. Embedded storage is hard, or even impossible to replace. But the latest SD 9 Specification brings a new Boot functionality that can solve this potential risk. In other words, drones that combine boot and image storage onto an SD memory card may be easily revived by replacing the damaged card equipped with boot code.
Competition among photographers is now fiercer than ever, which will drive continued and exciting rapid innovation in the world of memory cards. The outcome is that photographers and videographers will benefit from new technology and more creative ways to capture and store images and videos.
Yosi Pinto is chairman of the SD Association. Pinto can be reached at Yosi.Pinto@wdc.com.
SD trademarks are owned and licensed by SD-3C LLC.
PCI Express® and PCIe® registered trademarks of PCI-SIG®.
NVM Express™ and NVMe™ are trademarks of NVM Express, Inc.
©2022 SD Association. All Rights Reserved.